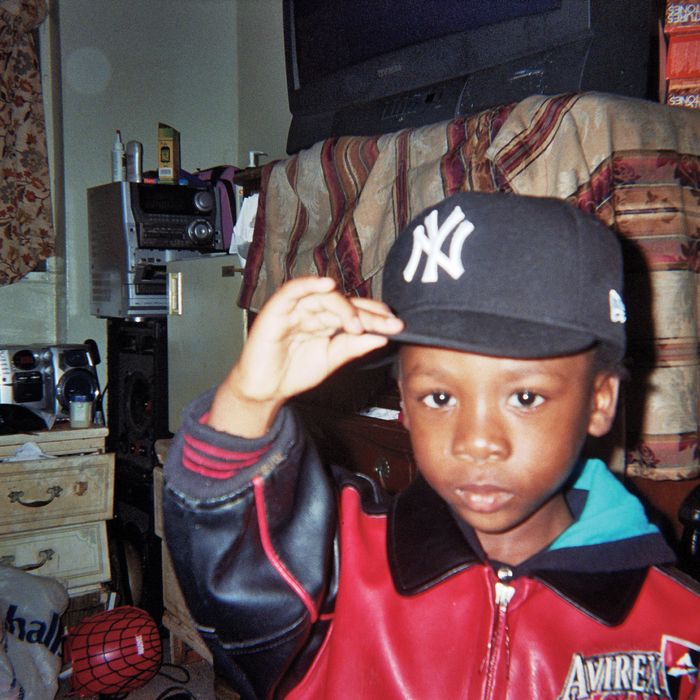 "I had taken a pic of my cousin Jamara," writes Aaliyah Colon, an 11-year-old resident of the Manhattanville Houses in Harlem. "He is three and was in my aunt's room. He was just upset and was kind of in a hurry to take his stuff off." Colon is describing the picture above, one she also took, of a little boy with wide eyes and fingers holding the brim of his Yankee cap. It's about as normal a scene as you can get, but frozen in a snapshot, it radiates a quiet power.
Colon's photo is just one of the images printed in a new book, Project Lives, a collection from a participatory photography project in New York City's public housing. George Carrano, a former MTA official (you can thank him for the MetroCard), came up with the idea through his nonprofit Seeing for Ourselves. Carrano wanted to flip the negative view of public housing by having residents turn the lens on themselves. He pitched the program to the New York City Housing Authority and won approval. "Developing Lives" launched in 2010 in the Manhattanville Houses and from there expanded to 15 projects in Manhattan, the Bronx, and Brooklyn.
The program ended in the spring of 2013, but Project Lives showcases the work of the photographers who snapped pictures throughout its run. Most of the participants were kids and adolescents, such as Colon, and senior citizens. During a 12-week intensive course, they studied the craft of photography, learned techniques of framing and composition, and went on assignment to the dinner table, to the playground, to church to snap photos with a Kodak disposable camera. The students did not use digital cameras, in part to encourage photographers to think carefully about each shot they took.
What came back was exactly what the editors had anticipated: a startlingly simple and optimistic portrait of family, friends, and neighbors. Photos show a couple cooking dinner, a beloved cat, a first date, the junk that's accumulated in an apartment over years. There's nothing really specific about the projects in Project Lives. It's just life.
Click through the slideshow to see more images from Project Lives. For more information about the collection, visit the website or check out the book available April 7. All proceeds from the sale of the book will go toward the New York City Housing Authority.