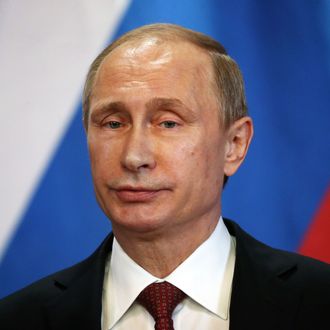 Vladimir Putin.
Photo: Sasha Mordovets/Getty Images
Vladimir Putin is still nowhere to be found, but that didn't prevent him from engaging in some nuclear saber rattling. On Sunday night, Putin appeared in a documentary titled Homeward Bound, which aired on Russian state TV to celebrate the upcoming first anniversary of Russia's annexation of Crimea. Naturally, the two-and-a-half-hour film paints a triumphant picture of Russia's military action. Putin claims he decided to seize Crimea on the morning of February 23, following an all-night meeting with his security chiefs. The U.S. and E.U. consider the move illegal, and Putin says he ordered Russia's military to be ready for anything. "I spoke to colleagues and I told them that this is our historic territory. Russian people live there; they are in danger and we can't abandon them," Putin said.
When asked if that included putting Russia's nuclear forces on alert, Putin said, "We were ready to do that." Luckily, he decided that "the worst possible turn of events" was unnecessary. 
Previously, Putin has suggested that he only annexed Crimea because its citizens, who are mostly ethnic Russians, demanded it. In the documentary, he said a secret poll showed more than 75 percent of the population supported annexation, but he put more emphasis on the ouster of Ukrainian president Viktor Yanukovych. "We never thought about severing Crimea from Ukraine until the moment that these events began, the government overthrow," Putin said, according to the New York Times.
Putin suggested that the massive protests that led to Yanukovych being removed from power were engineered by the West. "The real puppeteers were our American partners and friends," Putin said. He also described how Russian special forces helped Yanukovych flee to Russia. "For us it became clear and we received information that there were plans not only for his capture, but, preferably for those who carried out the coup, but also for his physical elimination," Putin said. "As one famous historical figure said: 'No person, no problem.'"
While Putin had claimed early on that the armed men in Russian military uniforms who took control of Crimea's infrastructure weren't Russian, he's subsequently admitted that they were Russian special-forces units. In the documentary, he said they were deployed "under the guise of reinforcing our military facilities in Crimea." According to the Washington Post, he argued that Russia's action wasn't illegal because it has an agreement with Ukraine to station up to 20,000 troops on its military bases in Crimea.
Putin explained that during the "first stages" of Russia's action in Crimea, he was giving Russia's armed forces "direct orders." "You know what our advantage was? The fact that I was doing this personally," Putin said. "Not because I did everything correctly, but because when it is done by the top person in government, it's much easier for those who fulfill orders to work."