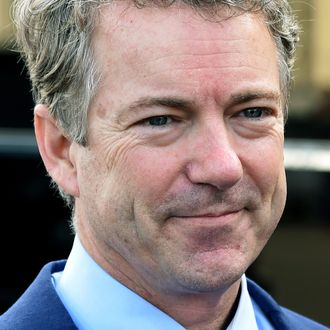 Photo: Ethan Miller/Getty Images
Several of our nation's finest lawmakers have appeared on the NBC political comedy Parks and Recreation, but according to the show's creator, one senator backed out last minute when he started to worry the script was making fun of him. That person was our very own real-life Ron Swanson, Rand Paul.
Paul was all lined up to have a cameo on Parks and Rec for its final season, but creator Mike Schur told Hitfix that he canceled at the 11th hour for fear of being compared to the show's beloved libertarian grump, Ron Swanson.
"I think he thought we were making fun of him, or something, which we were not, at all," Schur said. "We were in fact flattering him, by linking him to Ron [Swanson]."
"I get the sense that maybe interpreting writing and humor is not his strong suit," he added.
Rand should probably be afraid of comparisons to Ron Paul, not Ron Swanson.