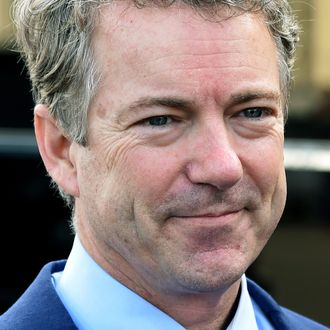 Photo: Ethan Miller/Getty Images
Congratulations to Rand Paul, Son of Ron, for winning the Conservative Political Action Conference's straw poll for the third time in a row. Paul the Younger took 25.7 percent of the vote, while Wisconsin governor Scott Walker came in second place with 21.4 percent. (The Washington Post reports that around 3,000 CPAC attendees participated in the poll this year.) Texas senator Ted Cruz came in third (11.5 percent), Ben Carson came in fourth (11 percent), and Jeb Bush rounded out the top five with 8 percent.
Does this mean that Paul is going to be the GOP's 2016 presidential candidate? Probably not. CPAC skews libertarian, and winning the straw poll isn't usually correlated with obtaining the Republican nomination. Here are the poll's winners in reverse chronological order, dating back to 2007: Rand, Rand, Mitt Romney, Ron Paul, Ron Paul, Mitt Romney, Mitt Romney, Mitt Romney.