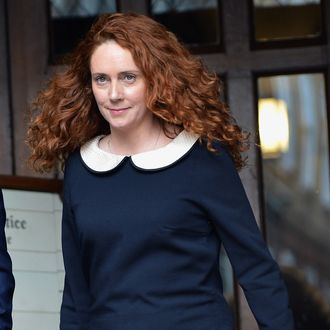 Rebekah Brooks.
Photo: Christopher Furlong/2012 Getty Images
Rebekah Brooks has been lying low since last June, when she was cleared of all charges in News Corporation's endless bribery and phone-hacking scandal. That might be about to change. The Guardian reports that Brooks, a longtime friend and ally of News Corp. head Rupert Murdoch, is talking with her former employer about a new job "heading up his search for new online investments." (She stepped down from role as CEO of News Corp.'s British newspaper division as the scandal was blowing up in 2011.) 
She has reportedly purchased an apartment in New York, although will likely remain in the U.K.
From the Guardian: 
Brooks was first spotted in Murdoch's New York headquarters in October and last month was spotted with a large Murdoch delegation at at the recent Consumer Electronics Show tech trade fair in Las Vegas.

One source said that a deal had yet to be signed, but it was imminent. "She is catching up and learning the ropes of the business after three years concentrating on clearing her name."
Assuming the rumors of George and Amal moving to the city are true, Brooks' new real estate means she will be in a much better position to influence which redheaded actress plays her in Clooney's planned News Corp. movie. 
This post has been updated to reflect the fact that although Brooks has reportedly purchased an apartment in New York, she will likely be based in the U.K.