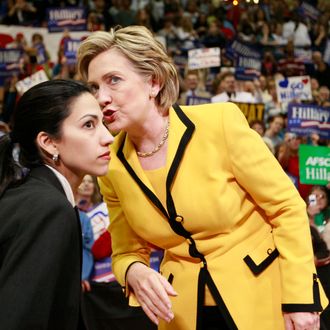 Photo: AP Photo/Charles Dharapak
In an attempt to defend Hillary Clinton's failure to use a government email address while she was secretary of State, current and former State Department officials suggested she didn't really use email, preferring to communicate via phone, video conference, or assistant instead. Bloomberg Politics reports that one former colleague said that when Clinton was abroad, "he generally conveyed messages to Clinton through a core group of four senior aides–Cheryl Mills, Jake Sullivan, Huma Abedin, and Philippe Reines." So Clinton's correspondence was being archived, because it was going through staffers with government email — or that's what would have been happening if at least two of the aides on that list weren't using private email as well.
A source tells Gawker that rather than the @state.gov accounts, Clinton's top staffers "used those Clinton email addresses." Specifically, the source alleges that Philippe Reines, the former deputy assistant secretary of State, and Huma Abedin, Clinton's deputy chief of staff, used private email while conducting official government business.
Gawker reports that there are several clintonemail.com addresses linked to Abedin, and an email sent to huma@clintonemail.com on Tuesday did not bounce back. Clinton spokesman Nick Merril said Reines never had a clintonemail.com address, but did not respond to questions about whether he used another non-government email address while working at the State Department.
The Associated Press has also reported that Clinton owned the server transmitting these private email messages. The server was registered to the Clinton home in Chappaqua, New York, by the apparent pseudonym Eric Hoteham.
There are questions about whether Clinton actually violated the law, but the White House made it clear on Tuesday that they are not going to condone her allegedly shady email habits. "Very specific guidance has been given to agencies all across the government, which is specifically that employees in the Obama administration should use their official e-mail accounts when they're conducting official government business," White House press secretary Josh Earnest said. "However, when there are situations where personal e-mail accounts are used, it is important for those records to be preserved, consistent with the Federal Records Act."
A current employee of the department's cybersecurity team told Al Jazeera America that they were well aware that Clinton wasn't using a government email address, and her staff ignored their warnings. "We tried," the employee said. "We told people in her office that it wasn't a good idea. They were so uninterested that I doubt the secretary was ever informed."