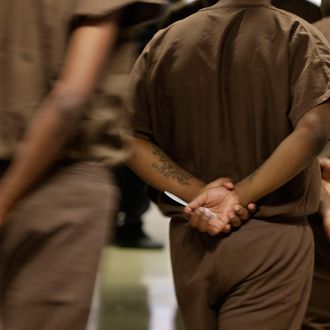 Rikers Island inmates.
Photo: Julie Jacobson/Corbis
This week, 19 inmates at the Anna M. Kross Center on Rikers Island filed a federal lawsuit alleging they were served meatloaf that contained rat poison during a lockdown last week, possibly in retaliation for the attempted rape of a correction officer (though she was saved by other inmates). On Wednesday, Patricia Feeney, the department's assistant commissioner for environmental health, denied in an affidavit that officers are trying to cover up the incident by destroying the green-and-blue-specked meatloaf, and said she's saving samples in her refrigerator. "I also looked at the rodenticides in the facility's exterminator shop and none of the rodenticides matched the substance on the food," Feeney said.