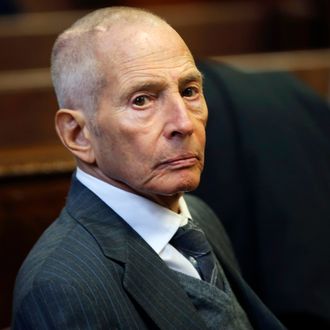 Photo: Mike Segar/Reuters/Corbis
The Texas judge who presided over the 2003 case accusing Robert Durst of murdering his neighbor Morris Black says she believes Durst is a serial killer who practiced dismembering human bodies by cutting up animals. Durst was acquitted of the charges in that case, but was charged this weekend with the murder of his longtime friend Susan Berman.
Judge Susan Criss spoke with Inside Edition about her experiences with Durst, both during the case and after it ended. She claims Durst had seven different malamute dogs, all of whom he named Igor and who each met "very bizarre unnatural deaths." 
"He practiced on those dogs and that's where he got some of those skills at cutting people up," Criss said.
In one recorded phone call Durst made from jail to his wife Debrah Charatan, Criss says Durst made a reference to "doing an Igor" on his brother, to which Charatan responded, "Stop! Stop! Stop Bob! This is recorded.'" Criss told Inside Edition she believes Durst used "Igor" to mean murder.
Criss also claims that shortly after the trial concluded, she found a "perfectly preserved" severed cat's head on her doorstep and believes that it was Durst who left it there.
"This was a perfectly clean and preserved cat head cut up by someone who knew what they were doing laying right there," she said.
In the interview, Criss also stated that she believes Durst is a serial killer.