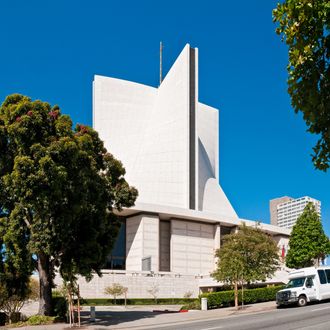 San Francisco's St Mary's Roman Catholic Cathedral.
Photo: fotoVoyager/Getty Images
KCBS reported today that the Archdiocese of San Francisco installed a watering system outside the doorways of St. Mary's Cathedral to deter homeless people from sleeping there. Several times a night, the sprinklers would rain for just over a minute, soaking anyone in the alcoves below. One homeless man told the news station, "We're going to be wet there all night, so hypothermia, cold, all that other stuff could set in. Keeping the church clean, but it could make people sick." Many homeless people tried to continue sleeping outside the church anyway, by using umbrellas or waterproof clothing. 
Neighbors called the practice "inhumane," and impractical given the severe drought in California. The cathedral may have been violating water-use restrictions by using the sprinklers.  
The Archdiocese of San Francisco, which notes that it is one of the largest supporters "of services for the homeless" in the city," responded by saying that the system would be removed by the end of the day, and that it had deployed the sprinklers to "avoid the situation where needles, feces and other dangerous items were regularly being left in these hidden doorways," denying that the church had ever meant to soak those who tried to seek shelter there. The statement adds that this system was "being commonly used in the Financial District." The Strand Bookstore in New York was also once accused of using sprinklers to keep away the homeless. 
The Archdiocese added that it was sorry that its "intentions have been misunderstood and recognize that the method used was ill-conceived." It will hopefully return to the normal religious practice of sprinkling on water on people in order to increase church attendance instead of to keep people away.