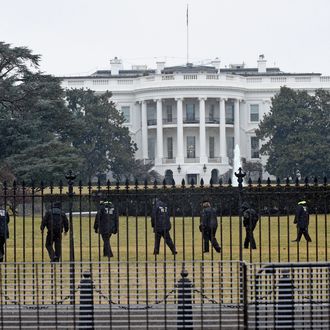 Secret Service officers search the grounds of the White House on January 26, 2015.
We once thought that rogue Secret Service agents only existed in dumb action movies, but now we have to consider the possibility that someone is trying to take down the agency from the inside. That's the only explanation for the latest White House security breach, which is somehow even worse than initially reported. The two allegedly drunk agents who crashed into a White House barricade last week weren't driving through some hours-old crime scene tape. The Washington Post reports that there was an active bomb threat at the scene, and the agents nearly ran over the suspicious package.
At about 10:25 p.m on March 4, a woman driving a blue Toyota drove up to the southeast entrance of the White House; shouted, "I'm holding a [expletive] bomb!"; and left a package wrapped in a green shirt on the ground. She then retreated to her car, and an agent opened the door and ordered her to get out. She reversed the car, hitting the agent with the open door. They wrestled over the controls, but the woman was able to put the car in drive, hit the agent again, and speed off.
Shortly before 11 p.m., while an explosives disposal team was still trying to determine if the package was dangerous, the two agents came careening through the crime scene. One law enforcement officer said they thought the agents might have run over the package, but after reviewing surveillance video they determined that they drove next to it. 
By 11:45 p.m. investigators determined that the package only contained a book. The woman, who is known to the Secret Service, was located two days later and is facing charges for assault with a dangerous weapon. As for the agents, they've been moved to "non-supervisory, non-operational" jobs during the investigation — which we're guessing is less harsh than what would happen to a barista who drunkenly crashed her car into a Starbucks drive-thru window.