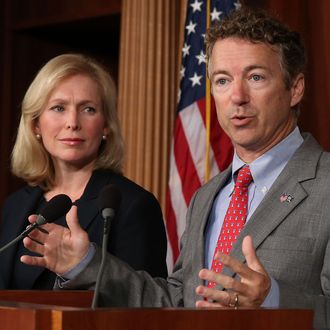 Photo: Mark Wilson/Getty Images
Senators Kristen Gillibrand, Cory Booker, and Rand Paul announced that they plan to unveil legislation that would lift the federal ban on medical marijuana on Tuesday. The bill, which adheres to the unfortunate and by no means necessary rule that all attention-grabbing legislation must feature a tortured acronym, is called the Compassionate Access, Research Expansion and Respect States (CARERS) Act, and would "allow patients, doctors and businesses in states that have already passed medical marijuana laws to participate in those programs without fear of federal prosecution," according to a statement released by the co-sponsors. Medical marijuana is legal in 23 states and the District of Columbia, but federal agencies like the Drug Enforcement Administration are still able to shut down dispensaries owing to federal law. 
At first glance, this looks like an odd team to champion medical marijuana, but Gillibrand and Paul have a history of being called an "odd couple" —they worked together on a bill that would change how the military deals with sexual-assault cases in 2013; last year, the senators co-sponsored bills to repeal the Authorization for Military Force in Iraq and help parents pay for child care. Paul and Booker have been called a congressional "odd couple." too, for working together on a criminal-justice bill that sought to help young nonviolent offenders. 
Paul also happens to be interested in differentiating himself from the rest of the crowded 2016 presidential field, something that might be helped by his increasingly burnished bipartisan credentials in issues near and dear to many young voters' hearts. 
Several other 2016 candidates have said that pot is an issue that should be left to the states, but most seem to take that position as a way of avoiding discussion on the topic altogether.
Regardless of whether this bill succeeds, the United States will likely welcome a few more states to the legal-weed fray by the time we have a new president. A handful of states will likely put marijuana legalization on the ballot in 2016, while other states have state legislatures considering legalization. And during an election cycle when marijuana is on everyone's mind, Paul is going to be the presidential candidate with the most to talk about.