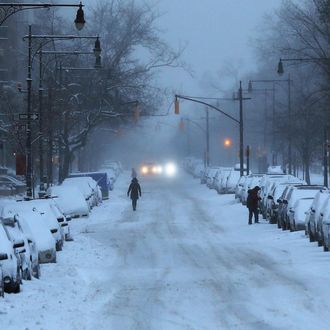 A Brooklyn street is viewed the morning after a major winter storm on January 27, 2015 in New York City.
Photo: Spencer Platt/Getty Images
True to its reputation, March is coming in like an ice-covered, life-ruining lion, refusing to capitulate to our yearnings for spring. We can expect a mixture of snow, ice, and rain all the way through Thursday night, making this the perfect week to go straight home after work and marathon House of Cards.
The National Weather Service has issued a Winter Weather Advisory in effect from 3 p.m. Tuesday to 2 a.m. Wednesday. It should start snowing around 4 p.m. today, just in time to mess with your commute, and we can expect a total accumulation of two to three inches by tomorrow morning.
The temps will hover in the 20s until tomorrow, when they randomly shoot up to the 40s, changing the snow to rain and turning your Wednesday into a depressing, Seattle-ish mess. By Thursday, it's back to the 20s, when we get — wait for it! — more precipitation, again in the form of snow. On Thursday alone we could get three to five inches, because everything is terrible.
Luckily all that rain, snow, and ice will clear up by Friday morning, but the temperatures will be freezing again, with a high near 26. Spring, only a little over two weeks away, seems like a hopeless mirage.