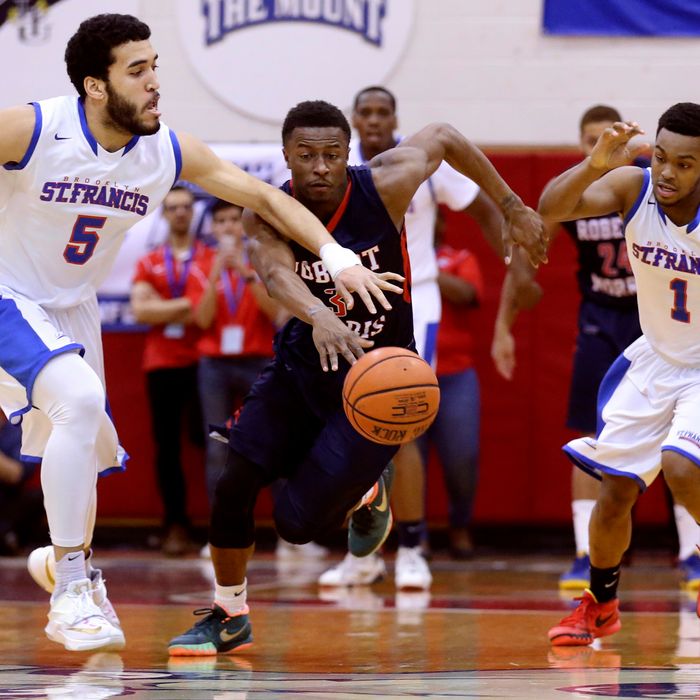 St. Francis forward Jalen Cannon (5) and guard Brent Jones (1) chase Robert Morris guard Kavon Stewart (3) during the first half of an NCAA college basketball game in the championship of the Northeast Conference tournament on March 10, 2015.
Photo: John Minchillo
For a tiny university located in Brooklyn Heights, St. Francis College has a notable athletic history. The school has one of the city's oldest college basketball teams; their gym — the Pope Center — seats only 1,200 fans and is among the smallest in the country; and St. Francis is one of five teams, including Army, the Citadel, Northwestern, and William & Mary, that have existed since 1948 yet never made the NCAA tournament.
It's a dubious distinction, one that is oft repeated this time of year, and since the four other squads have missed the mark again in 2015, the Terriers were perfectly positioned to end their 67-year drought.
On Tuesday night, 1,013 fans screaming "Let's Go Bobby Mo" and "Terrier Pride" filled Remsen Street and several adjoining blocks.
The top-seeded Terriers were playing Robert Morris University, out of Moon Township, Pennsylvania, in the Northeast Conference championship game — a win meant automatic entry to the NCAAs, and a loss meant another "wait 'til next year" pep talk.
St. Francis was the overwhelming favorite, featuring player of the year winner Jalen Cannon, a six-foot-six senior forward with a predilection for rebounds, and Brent Jones, an all-first team NEC guard who is the school's career leader in assists (with 606).
The squad won 23 games and seemed destined for at least one frame in the 2015 "One Shining Moment" montage. That presupposed success drew both Congressman Peter King and Brooklyn borough president Eric Adams to the Pope Center on Tuesday.
The Northeast Conference, or NEC for short, is peculiar. It is still Division I, but as a low-major league, it possesses an endearing quality. During St. Francis's pregame warm-ups, several elementary-school children stood in the middle of the court and high-fived each player as they ran past. There were two mascot dance-offs (to Nelly and then House of Pain), and the Robert Morris band harassed Terrier players with chants of "Ice Cream Soup" whenever they attempted a free throw (according to a clarinetist, "There is nothing better than ice cream soup," and the strategy worked — SFNY made only 9 of their 22 freebies).
St. Francis took a six-point lead into halftime. The crowd was strangely very pro–Robert Morris, but the Terriers had a bit of divine intervention on their side — a Franciscan brother who watched the game from a stairwell and cheered just as ardently as the scores of RMU students that trekked the nearly 400 miles from western Pennsylvania.
Despite the lead, Glenn Braica, the Terriers' fifth-year head coach, was nervous: This was the third meeting between the two squads this season — the Colonials were the only NEC team to beat SFNY in Brooklyn — and he knew RMU would make a run.
He also was well aware of St. Francis's basketball history. As an assistant on the 2001 squad, the Terriers squandered a 20-point lead in the NEC final and would drop another title game just two years later in similarly disastrous fashion.
The contest veered back and forth in the second half, and each lead change, no matter how incremental, was met with cries that shook the building. For the final few minutes, each of the 1,013 attendees, including Congressman King and Borough President Adams, were standing.
Robert Morris held a 64–63 lead with 13 seconds left when Lucky Jones, the Colonials' senior offensive fulcrum, was fouled. His immediate and extended family were in the stands — his mom wore a T-shirt that said "Momma Jones," and his father sported a fedora and a "Poppa Jones" tee — and they tried to quiet the crowd to help the wing concentrate.
Feeling the pressure, the RMU band leader held hands with her three flutists as Jones stepped to the stripe.
Jones made both free throws, setting up the game's defining moment: down 66–63, SFNY's Tyrek Jewell, who led all scorers with 19 points, grabbed a long offensive rebound and was fouled in the act of shooting a three-pointer. A 65 percent shooter, Jewell missed all three free throws, and Braica and his Terriers will be on the sidelines for yet another March Madness, their 67th.
While this will be the eighth NCAA tournament appearance for Robert Morris, it is the first time under coach Andy Toole. The Colonials will have a high seed, either a 15 or 16, and it's unlikely they pull off an upset, but in the aftermath of Tuesday night, anything is possible.
After Robert Morris cut down the nets, Jones, with his own section of twine hanging from his neck, carried the NEC trophy in one hand and his infant son in the other, softly crooning to his child, "We're going to the show. We're going to the show."
"No one ever thought it was possible to create tonight's atmosphere at St. Francis," Braica said during the post-game press conference. "This game was the hottest ticket in town — people were calling me for tickets — and who would have ever thought this would happen on Remsen Street?"