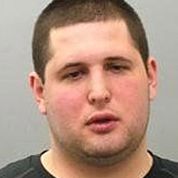 A part-time reserve officer in the St. Louis suburb of St. Ann was recently arrested for a DUI, but he has a reason for his bad behavior: Ferguson made him do it.
Twenty-two-year-old Jacob Klaus was arrested on Saturday for operating a motor vehicle while impaired after he drunkenly crashed his Dodge Dakota into a St. Louis house. Klaus was reportedly apologetic about the accident, and claimed he started drinking after the stress of volunteering with the Ferguson police department began to get to him.
"That's what he said, and we had zero problem with him before," St. Ann Police Chief Aaron Jimenez told the St Louis Dispatch. "He was not a drinker and had no substance abuse when he took the lie detector test."
Klaus hasn't been charged for the DUI, and authorities say he likely won't be.