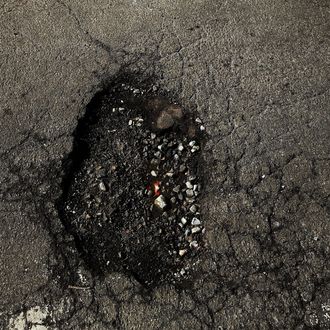 Meet our nemesis.
Photo: Spencer Platt/Getty Images
This winter, there were nearly 80 days below freezing in New York City. The roads buckled and cratered in revenge, leaving the Department of Transportation with more than 158,000 potholes to fix. They don't expect to stop anytime soon. DNAinfo talked to one expert who said the desolate landscape looked like the moon — and not even because of the food wrappers and assorted crap strewn everywhere.
If you prefer your pothole updates to look like a comic strip, the DOT runs a Tumblr that features pictures of its 2,500 workers covered in exciting graphics that read "WHACK WHACK," "WHOOSH," and "SIZZLE." If you only trust gnome reporters, you may want to consult the Staten Island Advance's roadwork sage, Pothole Paulie.