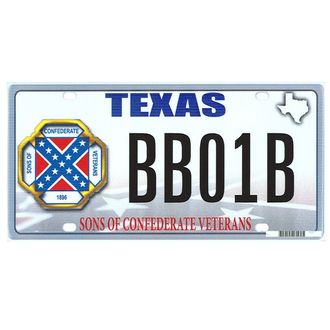 Photo: Texas Department of Motor Vehicles
On Monday, the Supreme Court debated license plates. Does a license plate represent the speech of a state, or the person who owns the car it's attached to? If a state bans a license-plate design with a confederate flag on it, is it violating the First Amendment? Nine states currently issue specialty license plates with confederate flags on them, but Texas decided to reject a proposal submitted by the Sons of Confederate Veterans, which is why the Supreme Court was discussing the matter of car swag this morning.
Justice Ruth Bader Ginsburg asked the lawyer representing the Sons of Confederate Veterans if a win would mean that Texas would also have to approve designs with swastikas or the phrase "Bong Hits for Jesus." (This is not the first time the Supreme Court has discussed bong hits for Jesus.) Chief Justice John Roberts said that maybe states should avoid offering vanity license plates if they don't want to risk running afoul of the Constitution.
"If you don't want to have the al Qaeda license plate, don't get into the business of allowing people to buy … the space to put on whatever they want to say," Roberts said, according to Reuters. He then mentioned that Texans have the option of buying a license plate featuring the restaurant chain Mighty Fine Burgers. "They are only doing this to get the money."
Texas makes a killing on license plates. In 2014, the state made $17.6 million off of specialty designs. Over the course of the program's history, nearly 450 designed have been approved. Lower courts sided with Sons of Confederate Veterans, saying that license plates do not represent the views of the state. The American Civil Rights Union filed an amicus brief supporting the Sons of Confederate Veterans. "However reasonable this distaste for a symbol of racism," the brief argues, "the Constitution does not permit the State to discriminate against messages in a forum it has created for private speech."
The Sons of Confederate Veterans also argue that Texas has had no problem associating with the Confederacy before. The Texas Capitol gift shop offers an assortment of desk flags — including the Confederate flag. Confederate currency is also for sale. A Civil War monument near the Texas Capitol features the flag "etched in marble."
Former Governor Rick Perry was against the license plate in 2011, saying,  "We don't need to be scraping old wounds."
Texas Monthly wrote about the booming state license plate industry in a February 2014 story titled, "Texas, We Should Talk About Your License Plate Addiction." The article notes that "some of them use comic sans. Have a little self-respect." There is a "Don't Tread on Me" license plate. There is a pink camouflage license plate. There are multiple options for people who want a Dallas Cowboys license plate.
Texas's specialty plates once changed the life of a man who loved bacon.
Despite Texas's especially voluminous license-plate varietals, there are several other states that could be influenced by the Supreme Court's decision, which will probably be announced in June. North Carolina is especially interested in what the high court has to say, after a federal appeals court said that the state's "Choose Life" license plate violated the First Amendment. A similar "Respect Choice" plate had been rejected. North Carolina also has a history of giving the okay to many license-plate designs, including one that reads "I'd Rather Be SHAGGIN'."
Last week, Michigan's Senate also approved a "Choose Life" vanity plate.
Sometimes, a state doesn't even have to offer specialty designs to anger would-be license-plate innovators. In New Hampshire last year, the state Supreme Court had to decide whether the state was wrong to reject a plate that read "COPSLIE," submitted by a man named "human." The Supreme Court decided that a law banning plates that a "reasonable person would find offensive to good taste" was too vague, especially since the state had no problems with a plate that read "A55-MAN." In Indiana, the Supreme Court had to consider a police officer's request to have a license plate that read 0INK.
As Ben Jones, the Sons of Confederate Veterans' spokesperson, told the New York Times, "It's not popular speech that needs protecting."