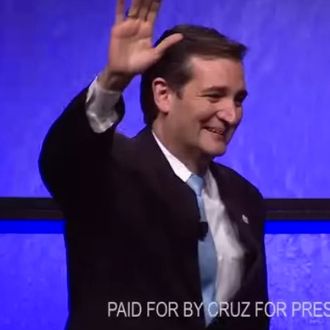 "Okay, nothing to see here."
Senator Ted Cruz tried to cultivate some much-needed excitement for his 2016 bid over the weekend by having his advisers leak the news that he would become the first candidate to officially enter the presidential race during a speech at Liberty University on Monday. The strategy was pretty successful: All day Sunday, most major news outlets had a story about the Texas senator's forthcoming announcement on their home page.
Then the AP released photos of Cruz walking through the speech with his family and even rehearsing how to kiss his wife onstage. And at 8 p.m., Cruz tweeted: "Tonight around midnight there will be some news you won't want to miss. Stay tuned… " What could be so urgent that he has to announce it in the middle of the night, hours before his highly anticipated speech?!
Oh. It's just the tl;dr version of the speech, in case you're too busy to tune in tomorrow:
To be fair, there is one interesting surprise in Cruz's tweet: We didn't expect to see shots of the Brooklyn Bridge and the Golden Gate Bridge in an ad that calls for a "new generation of courageous conservatives" to stand up and "help make America great again."