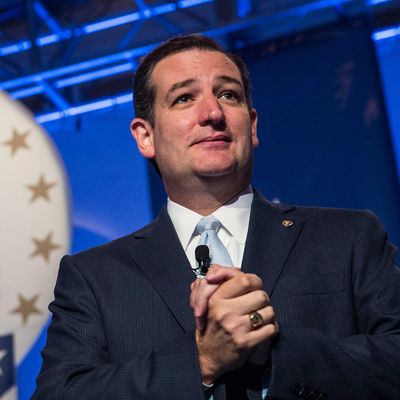 Ted Cruz.
Photo: Andrew Burton/2013 Getty Images
Do you wish that the president would stage more zany, pointless stunts? You're in luck: Ted Cruz, tea-party darling and Dr. Seuss enthusiast, will declare he's running for president on Monday, according to his advisers. The freshman Texas senator plans to make the announcement during a convocation speech at Liberty University, a Christian college in Virginia. While others have announced that they are forming exploratory committees ahead of a presidential bid, Cruz will be the first to officially enter the race. A Republican strategist who's discussed the announcement with Cruz told The Wall Street Journal that he plans to use the early buzz to his advantage. "Why not be first?" the strategist said.
Cruz will only get a slight jump on the other candidates, as senators Marco Rubio and Rand Paul are expected to officially enter the race next month. The move will allow Cruz to begin raising money directly rather than funneling donations into a political action committee.
The senator is a divisive figure, even within his own party (Senator John McCain once called Cruz and Paul "wacko birds," though he apologized later). He's often split with the Republican leadership, casting himself as a more authentic conservative. A video Cruz posted online last week highlights his 2013 stand against Obamacare, in which he protested the law with a 21-hour speech on the Senate floor (which looked like a filibuster but wasn't), and instigated a 16-day government shutdown that accomplished nothing.
According to the Houston Chronicle, which broke the news, advisers say Cruz's strategy for the primary is "to be the second choice of enough voters in the party's libertarian and social conservative wings to cobble together a coalition to defeat the chosen candidate of the Republican establishment." Supporters noted that he is already popular with the Republican base. "Constitutional conservatives around the country see he is anchored in a fundamental set of values," Representative Steve King of Iowa told the Washington Post. "There is also no question he is a very smart man, and a lot of presidents did not have his raw computing power."
However, others said that, despite his popularity with conservative voters, Cruz has no real shot at the presidency. Greg Valliere, a political adviser to Wall Street firms, told the Chronicle that even if Cruz secured the nomination, he'd only win about a dozen states in the general election. "The enthusiasm for him will be tremendous in maybe a third of the party, but another third of the party will be strongly opposed and another third of the party will be wary," he said.
On Sunday Democrats expressed excitement about Cruz pushing other candidates to the right during the Republican primaries, even if they think he has no business running for president. "That man betokens such a level of ignorance, and a direct falsification of the existing scientific data," California governor Jerry Brown said on Meet the Press while discussing Cruz's belief that global warming doesn't exist. "It's shocking, and I think that man has rendered himself absolutely unfit to be running for office."