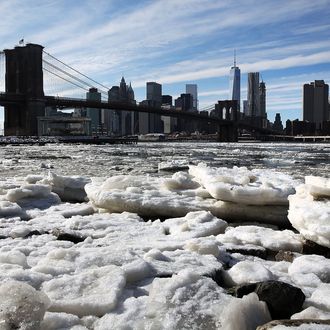 Photo: Spencer Platt/Getty Images
Though it's the third week of March and we're still battling frigid temperatures in New York, the northern hemisphere actually recorded its warmest winter on record this year, according to USA Today. Yeah, yeah, San Francisco, we know you had a heat wave.
The National Oceanic and Atmospheric Association announced yesterday that temperatures between December 2014 and February 2015 were the Earth's warmest on record. The average temperature was 1.42 degrees above the century average, slightly above the previous mark set in 2007. February 2015 also registered as the second warmest February ever on record.
Of course, these records mean absolutely nothing to those of us facing the prospect of more snow tomorrow.