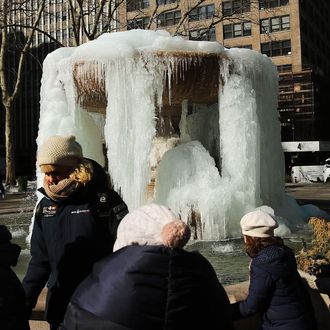 The frozen fountain at Bryant Park.
Photo: Spencer Platt/Getty Images
It's official: February 2015 is New York's third-coldest February ever, but we complained about it like it was the first. The last time February was so brutally frosty was in 1934, but those lucky bastards didn't have the internet to compound their wintry misery. Several other Northeast cities actually did break the record for the coldest February ever, including Syracuse, Buffalo, Islip, and Hartford. But now it's March, and we never have to think about February again*.
*Until next February.