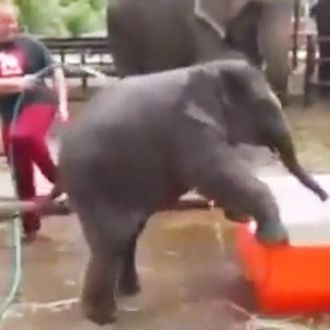 The good news is it's almost the weekend, but the bad news is it isn't the weekend just yet. Blast some Nelly and distract yourself with these eight good things that happened this week until you can slip out of the office without your boss noticing.
1. Spring finally sprung! Much of the East Coast got its first taste of mild weather for 2015, with the temps even hitting the low 60s in New York. Now that we've made it through Daylight Savings Time without dying of exhaustion, we also get to leave work when it's still light out. (It's the little things.)
2. Dennis the obese dachshund is now Dennis the formerly obese dachshund. When Dennis's current owners adopted him, he weighed 56 pounds, the size of a human toddler. But after sticking to a rigorous diet and exercise routine, Dennis is now down to a svelte 12 pounds, the average weight for a dog his size.
3. Scientists have completed the world's first successful "penis" transplant. Not only is this a great day for men who don't have penises, it also provides you with an easy way to shade your ex. Just email him a link to this story without comment. Done!
4. New York Magazine sent a bunch of drugs out to be tested and didn't get arrested (yet). For a story in this week's issue of the magazine, we had several samples of street-bought molly tested at a lab. The story was published, and nobody was cuffed. All in the name of journalism!
5. We discovered the cutest BFF pair of them all. Mr. Kimchi the pug and his small child friend will make you wish your best friend were either Mr. Kimchi the pug or a small child.
6. A waiter debuted his new teeth, paid for by a generous tip left by a customer. Brian Maixner was able to have his broken, rotting teeth pulled and get fitted with a new set of shiny white dentures after a customer at the Doo-Dah Diner in Kansas offered to pay for the procedure. 
7. Bacon and eggs came together again. Kevin Bacon is now the face of eggs, yielding the terrific tagline, "Nobody knows eggs better than Bacon." Don Draper would be proud.
8. This clumsy elephant took the cutest bath ever. She should get fitted with a LifeAlert.