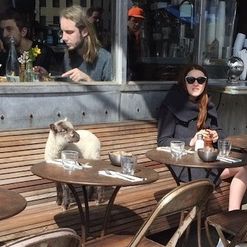 Greenpoint's Five Leaves.
Photo: Nick Ramsey
You wouldn't know it from looking outside, but today is officially the first day of spring, which means as soon as we make it through this frozen hellscape of a commute, we won't ever have to do it again (until next week, probably). If the blizzard's got you down, comfort yourself with these nine truly good things that happened this week. TGIF.
1. They finally captured the creep who's been illegally poaching deer on Staten Island. Police arrested 47-year-old David Oakes, who allegedly used a crossbow to kill deer in his own neighborhood, then would chop off their heads and leave their bodies to rot. Oakes is the first (and hopefully the last) person to ever be charged with poaching deer in New York City.
2. A new Alzheimer's drug is showing real promise. A drug developed by Biogen Idec has "sharply slowed the decline in mental function in a small clinical trial" of patients suffering from Alzheimer's, reports the New York Times. A widely developed and effective treatment for the disease could be life-changing for more than 5 million families.
3. This lamb got to spend an afternoon pretending he was the star of Girls. The baby sheep enjoyed a bite at Greenpoint's Five Leaves while thoughtfully pondering whether he is a Marnie or a Jessa.
4. A Guatemalan teen helped convince the government to fund girls' health and education. Fifteen-year-old Emelin spoke to the U.N. last week on behalf of the nonprofit Let Girls Lead about her work advocating for women's rights in her native country. When she challenged the mayor of her town to develop better policies to support women and girls, he originally laughed in her face. But her passion prevailed: A year later, he instituted the Municipal Office of Childhood and Adolescence, an organization that provides "access to peer counseling for adolescents, initiatives to bolster girls' engagement in the democratic process and legal accompaniment to cases of rape and domestic violence."
5. Robert Durst has finally been charged with murder. It took literally decades, but the real-estate scion and "serial killer" is now being held in prison on charges of murdering his close friend, Susan Berman.
6. A new DNA program is helping shelter dogs in California find homes faster. The Peninsula Humane Society and SPCA has begun free DNA testing for homeless pets, which helps them compile more accurate information about a dog's breed and temperament. Knowing a dog's specific background helps them more accurately market them to potential adopters. On average, dogs who had their DNA tested were adopted twice as fast as dogs who didn't.
7. The Guardian got its first-ever female editor-in-chief. It took 194 years, but starting this summer, Katharine Viner will helm the British news outlet.
8. A lion got a CAT scan. Get it? Cuz it's a cat?
9. North West had the ride of her life. There is truly no person on this earth cuter than Kimye's spawn.