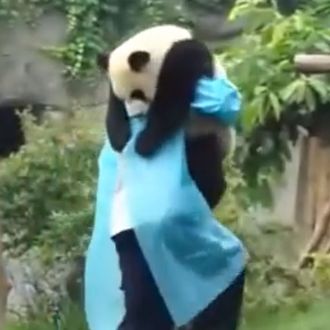 If we're lucky — which, frankly, we're not — we have survived the last major snow event of the season and can look forward to warmer temperatures, blue skies, and the ceremonial burning of our puffy coats. Plus, this weekend we'll spring the clocks forward, promising a much less depressing evening commute. Celebrate by enjoying these seven truly good things that happened this week.
1. The economy is still on an upswing. For the twelfth month in a row, the U.S. economy added more than 200,000 jobs, pushing the unemployment rate down to 5.5 percent, the lowest it's been since May 2008. Time to frivolously spend money on things we don't need!
2. A man saved from suicide by a sea lion has gone on to become an activist. Kevin Hines says he was kept alive by a sea lion when he jumped off the Golden Gate Bridge in 2000 intending to kill himself. The sea lion kept him afloat until he could be rescued. Now, Hines said at a conference in Australia this week, he's devoted his life to suicide prevention as a mental-health advocate. "This is absolutely my life's passion and my life's work," he said.
3. Wally the squirrel learned how to use a fork. Hey, save some peanut butter for me.
4. A blind man was able to see New York City's landmarks for the first time. With help from a bionic eye gifted to him by the Duke Eye Center, 67-year-old Larry Hester took his first trip to New York this week and saw the sights. The eye doesn't give him total vision, but it allows Hester to see shapes and brightness better. "To be here at the most famous park in this amazing city and actually see some of it is the best feeling in the world," he told People.
5. The Ringling Brothers will finally let their elephant prisoners go.  The last 13 performing elephants in the Ringling Brothers circus will retire by 2018, allowed to live out the rest of their lives in an animal sanctuary. It's a major coup for animals-rights activists, who for years have been trying to save the elephants from a brutal life on the road.
6. The last person being treated for Ebola in Liberia was released. Beatrice Yardolo's release from the hospital brings the number of known Ebola cases down to zero, giving the medical community a reason to be cautiously optimistic about the end of the epidemic.
7. This panda refused to get down from a tree unless she got a hug. I love her.