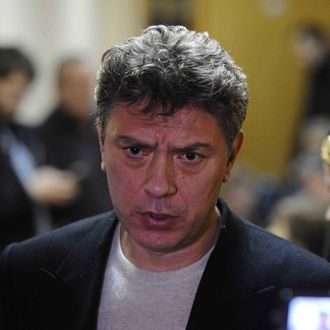 Boris Nemtsov.
Photo: Bobylev Sergei/TAR-TASS Photo/Corbis
On Saturday, the Russian authorities announced that two suspects had been detained in the death of Boris Nemtsov, the opposition politician who was shot to death outside the Kremlin on February 27. The men, identified as Anzor Kubashev and Zaur Dadayev, are expected to be officially arrested on Sunday.
State-run television said that Kubashev and Dadayev are from the Caucasus — a poor, unstable, and mostly Muslim region of Russia. From the New York Times:
… An unidentified source told the Interfax news agency that the police had been able to trace the men both through cellphone activity around the location of the killing and from DNA testing of evidence found in the suspected getaway car.
As many have noted, Caucasian hit men have been jailed for similar killings in the past, only to have whoever gave them their orders remain unidentified. Nemtsov, a liberal, was a vocal critic of President Vladimir Putin, and many of his cohort believe that his death was meant to quiet dissent. Meanwhile, the Russian government has said the murder might have been "a provocation to destabilize the political situation in the country, where the figure of Nemtsov could have become a sort of sacrificial victim for those who stop at nothing to achieve their political goals."
"I want to believe that these ones are really the ones who conducted [the killing] and that once in a while law enforcement worked professionally and detained real assassins, and did not make a mistake," said Ilya Yashin, who chairs Nemtsov's political party. "The key task for investigators is to find and prosecute the ones who ordered this murder. If everything ends with the detention of scapegoats, irrespective of whether they are the real assassins or not, the practice of political assassinations will continue with no doubt."