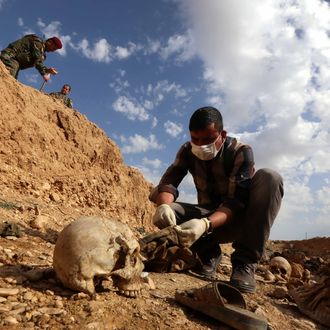 An Iraqi man inspects the remains of members of the Yazidi minority killed by the Islamic State.
Photo: Safin Hamed/AFP/Getty Images
The United Nations Human Rights Office released a report today that found that ISIS may have committed war crimes, crimes against humanity, and genocide against ethnic and religious minorities in Iraq. The horrifying acts described include killings, torture, abductions, rape, sexual slavery, forced religious conversions, and drafting children into the military. Special attention is paid to attacks against the Yazidis in Iraq; the report notes a perceived intent "to destroy the Yazidi as a group," and that "in some instances, villages were entirely emptied of their Yazidi population."
The U.N. concludes that ISIS may have perpetrated genocide.
Many other crimes were described in brutal detail in a statement released by the U.N.
Witnesses heard girls — as young as six and nine years old — screaming for help as they were raped in a house used by ISIL fighters. One witness described how two ISIL members sat laughing as two teenage girls were raped in the next room. A pregnant woman, repeatedly raped by an ISIL "doctor" over a period of two and a half months, said he deliberately sat on her stomach. He told her, "this baby should die because it is an infidel; I can make a Muslim baby."
The Human Rights Office advised that the U.N. Security Council consider referring these crimes to the International Criminal Court, and calls on the Iraqi government to also deal with these crimes domestically. As the BBC points out, Iraq is currently not a member of the ICC, and would need to join in order for these crimes to be tried internationally.