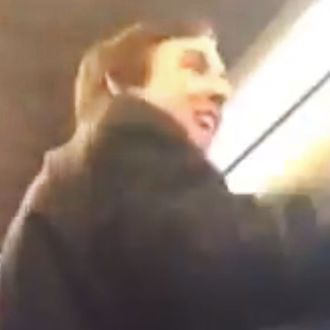 On Sunday, the University of Oklahoma campus newspaper received an anonymous email about a nine-second video that would only a few hours later lead the school to sever ties with the Sigma Alpha Epsilon fraternity. It featured frat members chanting on a bus. They sang, "There will never be a n***** SAE. You can hang him from a tree, but he can never sign with me."
By this morning, a crowd of students, athletes, administrators, and coaches had gathered on campus to protest the racist video. They were joined by university President David Boren, who said of those involved, "You are disgraceful. You have violated all that we stand for. Real Sooners are not racist. Real Sooners are not bigots." The frat members have until midnight on Tuesday to remove their belongings from the house. "And as they take their belongings out of the house," Boren told a local news station, "I hope they reflect on what they've done."
In a press conference later on Monday, Boren said that he wanted to see the fraternity members "meet with a group of African American students in my office and personally apologize."
Student reporters watched as a man vandalized the fraternity late on Sunday, writing "Tear it D" with black spray paint. The national chapter of SAE, founded in 1856 at the University of Alabama at Tuscaloosa, has apologized and expelled all University of Oklahoma members from the organization. "We are disgusted that any member would act in such a way," SAE said in a statement. "Furthermore, we are embarrassed by this video and offer our empathy not only to anyone outside the organization who is offended but also to our brothers who come from a wide range of backgrounds, cultures and ethnicities." A nearby SAE chapter also faced backlash today. The Daily O'Collegian at Oklahoma State University published a photo of a confederate flag visible in the window of the SAE fraternity there on Sunday. The SAE president on campus told the student newspaper, "A brother who lives in our house displayed the Confederate flag in his personal room. Sigma Alpha Epsilon does not endorse the Confederate flag nationally nor do we endorse it as a chapter. In addition, the flag has never been a symbol of our fraternity. My fellow chapter leaders and I have asked the brother to remove the flag from his room." Almost exactly one year ago, SAE, called "one of the largest U.S. fraternities and the deadliest" by Bloomberg, banned pledging in an attempt to stop the hazing of new members. 
Boren stressed in his press conference that he was not lumping other fraternities and sororities in with SAE. "We cannot paint the whole Greek system with a broad brush."
The Oklahoma Daily spoke to campus administrators, who were shocked and hurt by the whirlwind of events. Kirsten Partridge, director of student life, hoped that the incident would make students more aware of the racism happening around them. "Students who have not experienced that may not understand what students in minority communities face every day," she told the campus newspaper.
Correction: A previous version of this article said that a confederate flag was visible from a window at the University of Oklahoma chapter of Sigma Alpha Epsilon on Sunday. It was at Oklahoma State University.