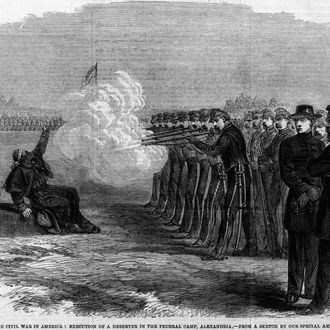 Firing squad during the Civil War.
Photo: Kean Collection/2010 Getty Images
Utah lawmakers passed a bill last week that would allow the state to bring back the firing squad for executions if lethal-injection drugs were not available. The governor, Republican Gary Herbert, has until April 1 to decide whether it should become law — and he's leaning toward signing it. Utah currently has eight inmates on death row and no lethal injection drugs. However, Herbert also said that it was unlikely firing squads would even be used if the law were passed, as the state is trying to procure the drugs.
"The debate is really more than just the firing squad," he told reporters yesterday. "It's should we have capital punishment or not?" 
Many states have considered alternative execution methods in recent months, as drug companies here and abroad have grown more reticent to be associated with death.
Utah is the first state to come this close to changing the law, however, and death-penalty opponents have flooded the governor's office with calls and comments in the past week. Since late January, Herbert has received at least 433 emails on the legislation; 396 opposed it, with many coming from a campaign started by the American Civil Liberties Union, according to the Associated Press. Many of them were from out of state, coming from places as far away as New Zealand. A petition with 6,200 signatures opposing the measure was also sent to the governor's office by Utahns for Alternatives to the Death Penalty.
One man from Seattle threatened to "never again come to Utah to ski if this barbaric execution style is used again in your state." However, the office contends that they received far more comments over previous legislative fights concerning issues like same-sex marriage.
Republican Representative Paul Ray, who wrote the legislation, says most of the response he has received has been positive. Others offered alternative methods of execution — one senior citizen from Florida explained how the state might want to create a death chamber.
"She scared me," Ray told the AP. "I'm glad she's not my grandmother." 
Oklahoma's House recently passed a bill that would allow nitrogen hypoxia executions if lethal injection were declared unconstitutional. Last year, Oklahoma used a relatively untested cocktail of lethal-injection drugs in an execution, given shortages. It took more than 40 minutes for the man sentenced to die to stop breathing.
The executive director of the Death Penalty Information Center told the Oklahoman that the new legislation "seems like another experiment" and "they're trying to find drugs and acceptable protocol, but I think this is too similar to what Oklahoma did last year, which is use a new drug without knowledge of what the right dosage was and what its side effects would be and what contingencies they should have in place if things didn't go right."