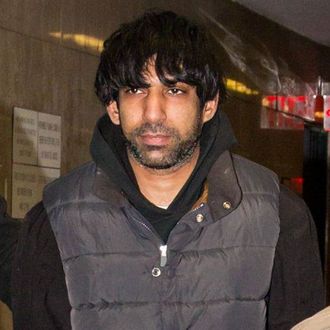 Malik in the New York State Court House.
Photo: Stefan Jeremiah/REX USA/Copyright (c) 2015 Rex USA. No use without permission.
Thirty-three-year-old Mark Malik convinced investors and hedge-fund ranking firms like Bloomberg LP that he was a successful Wall Street tycoon with $100 million in assets. In actuality, he was a former waiter and New York City traffic cop who didn't attend college and allegedly spent investors' money on knickknacks at the Statue of Liberty Gift Shop. Oops!
The Wall Street Journal reports that Mark Malik is being held at the Tombs on a $1 million bail bond on charges of securities fraud. The SEC claims he stole over $700,000 from unwitting investors and never actually made any returns on it, instead using the money to finance a lifestyle that included trips to the Statue of Liberty and a $49.99 subscription to a Muslim dating site.
Malik also had a knack for sending unhinged emails to clients who requested their money back:
Investors who asked for their money back from Mr. Malik were rebuffed with email replies that ranged from affectionate ("you know that I love you"), indignant ("stop your nonsense") and angry ("go f— yourself"), to bizarre ("I am going Deer hunting").

"I AM CRYING, I AM A HUMAN BEING…NOT A MONEY MAKING MACHINE, I HAVE FEELINGS AND DREAMS" he emailed one investor at 10:45 p.m. in February 2014. "YEAH PUT ME IN JAIL GOOD JOB!"
When investors reported him to the SEC for fraud, Malik allegedly tried to fake his own death by sending an email from a nonexistent employee saying he'd died from a heart attack. When that didn't work, the Journal reports he sent an angry email to the investor he thought was responsible for reporting him. It included a clip from a werewolf movie with the subject line "that's what I think I am."
Humans charged with 28 counts of securities fraud face up to 20 years in prison; it's unclear what the punishment for werewolves is.