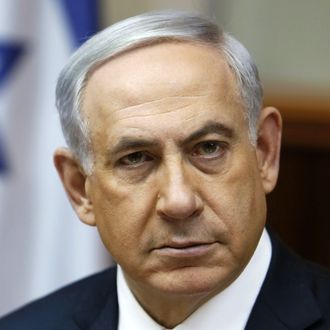 Photo: Gali Tibbon/AFP/Getty Images
Israeli Prime Minister Benjamin Netanyahu is scheduled to address Congress on Tuesday, which has sent a soap-opera-worthy river of emotions gushing across D.C. Here's a guide to who's mad, who's complaining, who's evading, and who's crossing their fingers as of right now. 
Benjamin Netanyahu
It is very likely that the prime minister, who has spoken to Congress on two previous occasions, will use the speech as an opportunity to criticize American foreign policy — especially ongoing negotiations regarding Iran's nuclear program. Netanyahu, who unofficially supported Mitt Romney during the 2012 presidential election, has been very critical of international offers to reduce sanctions against Iran in exchange for the country's agreement not to make nuclear weapons. Netanyahu tried to play down the dramatic, and partisantastic backdrop to his upcoming speech at the annual conference of the American Israel Public Affairs Committee on Monday morning, expressing gratitude for President Obama's support (and wonder at the attention his speech was getting: "Never has so much been written about a speech that hasn't been given"). He went on to argue, however, that, despite this, he could not stay silent while Iran remained a threat to his country. He believes the agreement as currently formulated will still allow Iran to be a formidable nuclear power. 
Back home, Netanyahu's remarks will be framed by the upcoming election on March 17. Likud, the party that Netanyahu leads, has seen support drop, and the polls are close. The timing of the speech was likely influenced by the impending vote, and Netanyahu's remarks will be geared toward impressing his base, which is also very worried about Iran.
The impending election was an obvious presence in the many rhetorical flourishes of Netanyahu's AIPAC speech. "Our friendship will weather the current disagreement as well, to grow even stronger in the future — because we share the same dreams," he said, "because the values that unite us are much stronger than the differences that divide us."
John Boehner
The Speaker of the House was the person who invited Netanyahu to speak to Congress in the first place. The Speaker did not ask the White House beforehand, which did not please the Obama administration. Congress — led by a Republican majority in the House and Senate — has considered placing additional sanctions on Iran to put additional pressure on the country during negotiations regarding its nuclear program. President Obama asked Congress to put off these plans during his 2015 State of the Union, to ensure that Iran's interest in the negotiations does not evaporate. 
On Sunday, Boehner said on Face the Nation, "The demand for seats in the House, the demand for tickets, I've never seen anything like it. Everybody wants to be there. What I do wonder is why the White House feels threatened because the Congress wants to support Israel and wants to hear what a trusted ally has to say. It has been, frankly, remarkable to me, the extent to which, over the last five or six weeks, the White House has attacked the Prime Minister, attacked me, for wanting to hear from one of our closest allies."
The White House
The Obama administration, besides being miffed that Republican lawmakers invited a foreign leader without asking permission, is also trying to refute the arguments Netanyahu has been making against the nuclear negotiations. Until he proposes something better, the administration argues, these negotiations are the best plan we've got. Samantha Power, the U.S. ambassador to the United Nations, told AIPAC this morning, "We believe diplomacy is the preferred route to secure our shared aim, but if diplomacy should fail, we know the stakes of a nuclear-armed Iran as well as everyone here. We will not let it happen," she said. "There will never be a sunset on America's commitment to Israel's security. Never." However, National Security Advisor Susan Rice has also made clear that the Obama administration is not pleased, saying the visit is "destructive to the fabric of the relationship" between the two countries. 
The White House will not host Netanyahu during his visit because of the proximity to the upcoming elections. Vice President Joe Biden will not attend the speech, as he will be in Guatemala. 
Democratic Lawmakers
More than 30 House and Senate Democrats plan on not attending the speech, expecting that Netanyahu plans to savage President Obama on foreign policy and viewing the invitation as a partisan move by their Republican opponents. Many Jewish Democrats in Congress see the speech as an opportunity to draw a distinction between supporting Israel and supporting those who govern Israel. Representative Steve Cohen told the New York Times, "I stand with Israel, always have stood with Israel, and always will, but this speech is not about Israel. Netanyahu is not Israel just like George W. Bush wasn't America."
Representative Earl Blumenauer wrote on the Huffington Post, "I will not dignify this irresponsible joint session — an affront to diplomacy, process, and security — with my presence. Congress ought to heed the advice of experts." Representative Zoe Lofgren said, citing Obama, "it is inappropriate for a Head of State to address Congress just two weeks ahead of their election. I agree that Congress should not be used as a prop in Israeli election campaigns, so I intend to watch the speech on TV in my office."
Senate Democrats, seeing the GOP-leader-prompted speech as a partisan move against the White House, invited Netanyahu to a private meeting during his D.C. visit. The Prime Minister declined. 
Representative Lee Zeldin 
Zeldin is the only Jewish Republican in Congress. He told the New York Times that "welcoming the Israeli prime minister to America with open arms should be something members fully embrace. It is an opportunity to let not just the Israeli prime minister know, but the Israeli people know, that America is united in strengthening our relationship with Israel."
John Kerry
The secretary of State spent Sunday flying to Switzerland, so he could discuss the nuclear talks with Iranian foreign minister Mohammad Javad Zarif — the New York Times said of their relationship, "They have spent long hours alone together. They exchange private emails. Their walk along the Rhone River in Geneva in January so unnerved hard-line lawmakers in Tehran that they signed a petition fretting about the duo's unseemly 'intimacy.'" Kerry really wants these talks to work out, especially since his diplomatic forays in Israel and Syria have not worked as well. 
Kerry told ABC News that he doesn't want Netanyahu's speech "turned into some great political football." Kerry also made an effort to show he was very much aware of what Obama administration opponents were saying about his schedule during a speech to the U.N. Human Rights Council on Monday, According to the Associated Press, Kerry urged the organization "to end what the United States says is its unfair and biased focus on the Jewish State."
Hillary Clinton
The former secretary of State will be in D.C. on Tuesday to attend an Emily's List event, but has not announced plans to attend Netanyahu's speech. The Emergency Committee for Israel, founded by Bill Kristol, released an ad, one of the first of the 2016 presidential cycle, attacking Clinton's silence on the issue.
Clinton wrote of her relationship with Netanyahu in Hard Choices: "I learned that Bibi would fight if he felt he was being cornered, but if you connected with him as a friend, there was a chance you could get something done together."
The GOP's 2016 Hopefuls
Republican politicians hopeful about their presidential chances have been far more vocal about the Netanyahu speech. Former Florida Governor Jeb Bush has tweeted about his excitement for the speech, and Netanyahu has tweeted thanks to Bush for recent comments he made defending the Prime Minister. Wisconsin Governor Scott Walker wrote an op-ed in National Review arguing that "President Obama and some Democrats have chosen to use this visit as a political football. This is exactly what Americans dislike about Washington." New Jersey Governor Chris Christie called the White House's treatment of the speech a "national disgrace." Senators Ted Cruz, Rand Paul, and Marco Rubio will all be watching the speech at the Capitol, and will likely be exceptionally enthusiastic during all the applause lines.
Netanyahu's Electoral Opponents
Isaac Herzog, who heads Israel's Zionist Union, discussed Netanyahu's speech at a press conference last week. "I call on Netanyahu again: Stop," he said. "Enough, Bibi, enough. You aren't going. Don't go. You will cause strategic damage to Israel's standing and to the relationship with the United States." Earlier this year, Tzipi Livni, said of the trip, "A responsible prime minister who first thinks of the good of his country's citizens does not do such a thing. A responsible prime minister would know to work with the president of the United States — with any president — and protect our most important interests."
Americans
The latest Gallup poll has 45 percent of Americans with favorable opinions of Netanyahu, and 28 percent with unfavorable opinions. However, a recent NBC/WSJ poll showed that 48 percent of Americans think Republican lawmakers should not have invited Netanyahu without telling the White House. Twenty-two percent of respondents didn't know enough about the issue to express an opinion.
Israelis
A poll conducted by the Israel Democracy Institute and Tel Aviv University earlier this year showed that 61 percent of Jewish Israelis think President Obama will approve an agreement with Iran even if Israeli officials think it will endanger Israel's security. Although Jewish Israelis think other candidates running in the upcoming parliamentary elections would be better on socioeconomic issues, a majority of respondents think Netanyahu is best on security issues.