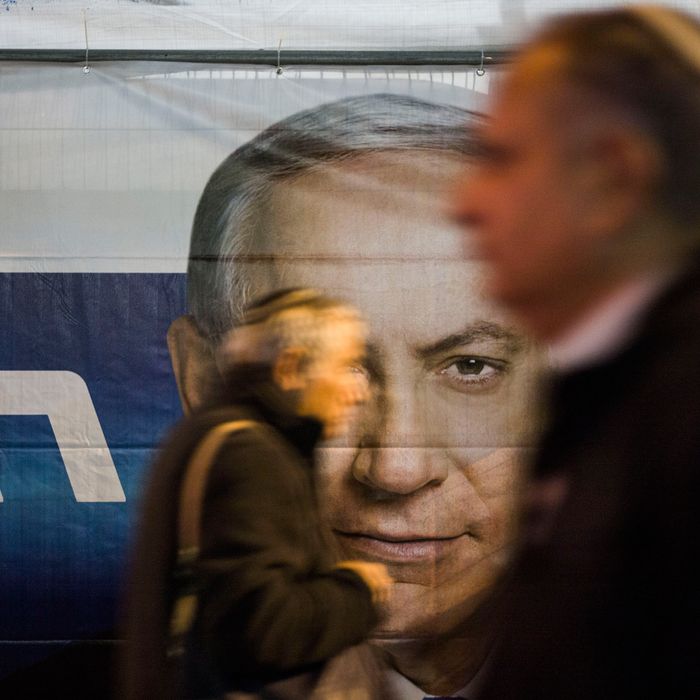 Supporters attend as Israeli Prime Minister Benjamin Netanyahu gives a speech in front of thousands at a pro-government rally in support of right-wing parties in Rabin Square on March 15, 2015.
Photo: Ilia Yefimovich/Getty Images
Tomorrow, Israelis will go to the polls and decide whether they want Prime Minister Benjamin Netanyahu and his allies to continue to run the Knesset, or whether they would like Isaac Herzog and the Zionist Union to change things up. The race looks impossibly close, and because this is a parliamentary election and there's no chance that either of the possible prime ministers can form a government alone, there are a host of smaller parties that hold the government's future in their grasp. Daily Intel talked to Mitchell Plitnick, program director at the Foundation for Middle East Peace, who explained some of the most important variables to keep an eye on tomorrow — and what potential electoral outcomes could mean for Israel's relationship with the United States, peace talks with Palestinians, and nuclear talks with Iran.
How do the polls look as the campaigning comes to a close?
The latest polls, which came out on Friday, show the Zionist Union four to five seats ahead of Netanyahu's Likud party. In Israel, people vote for parties, not for candidates, and the 120 seats in the Knesset are divided up by parties depending on how many votes each party gets. Right now, there's a push to get the 10 to 15 percent of voters who are on the fence and not sure whether they are going to vote for one of the two main parties — Likud or Zionist Union — or one of the smaller parties that will help form a coalition.
What are a couple of the lesser-known parties that are going to become very important at the end of the day tomorrow?
No party in Israeli history has ever won an outright majority. They always need a coalition. Especially now. Nowadays, a good showing is around 20 seats per party, so you need a bunch of parties to form a government.
The exciting thing about Israeli elections is that, historically, the polls have always missed something. By the time the election comes around one party always does a lot worse or better than the polls show. If they do a lot better, that party tends to become the kingpin. The identity of the party that's going to be key in this election may surprise us, but right now, it looks like there's two main possibilities.
One is Joint List, which is a coalition of the three Arab parties and a Jewish-Arab communist party, Hadash. They're all small parties, but when they form their coalition, all of a sudden they're polling 13, 14, 15 seats. Historically, no Arab party has ever taken part in a governing coalition. If Herzog, who is running with the Zionist Union, needs to form a governing coalition, he may need them. They've said that they won't join under any circumstances, but they may change their mind if they listen to a poll of Palestinian citizens of Israel, a majority of whom said they wanted Joint List to join the government. That's one thing to look at.
The other is a center-right party called Kulanu, headed by Moshe Kahlon, a former Likud minister, a more moderate one than Netanyahu — which doesn't take much. He conceivably could join either coalition, either Herzog's or Netanyahu's. That's a party that a lot of people are looking at, one that could outperform the polls. It appears to be polling at around eight or nine seats. Some people think they could get at many as 15. If that happened, they would definitely be the decisive party.
Netanyahu, in his last push, is reinforcing his stance on security issues and Iran, hence coming to the United States to speak to Congress. The Zionist Union, on the other hand, campaigned hard on domestic issues. Do you think, because of the success the Zionist Union has been having, that voters have been looking for an increased focus on what's been happening inside the country?
The polls throughout the campaign have indicated that people are more worried about internal domestic issues than they are about foreign policy. The experience of Netanyahu's speech in Congress a couple of weeks ago is very telling. He came here — at least from the point of view of Israeli politics — to consolidate his standing as an experienced player on the international stage by standing up to President Obama in the name of Israeli security. The result was a small bump in the polls for him at first, but when it became clear that he pushed Democrats away from him, his polls took a hit. The very area that should be his strength he botched, and he took what was really not an issue for any of the other parties and made it one. From the very beginning, Netanyahu focused on the security issue. Anytime he was asked about the economy, he would respond with "Iran" and "ISIL" and "Hamas." It turned out that he was doing this to fend off challenges from the right — that's where he thought he was vulnerable, when it turned out his biggest competition was going to be in the center.
What would it take for Netanyahu to be able to form a government tomorrow?
Not that much. Even if he does lose by three to five seats as projected, his path to a coalition remains clearer than Herzog's. The right-wing parties aren't going to clash as much with each other. The parties that Herzog would need to bring together, secular and religious, don't get along so well. There's a lot of clashes there.
The parties on the right will have their differences, there will be negotiation, give-and-take, and some of it may even be rancorous, but Netanyahu can put together a bare majority, according to the polls. There's a much easier road.
In either case, it's also important to note that the next Knesset is likely to be very unstable. It's going to be a narrow majority, so the smallest parties will be able to threaten to bring down the government. It's a pretty good bet that whatever happens, we're going to be back here soon.
Does it look like a long shot that Netanyahu will not be able to form a government tomorrow?
I wouldn't call it a long shot. If Herzog wins five more seats, that's a pretty strong advantage. And he will naturally have the Meretz and Yair Lapid parties with him. I wouldn't call it a long shot, but I do think the road to a coalition is easier for Netanyahu than it is for Herzog. It is very possible that Herzog will be asked to form a government and fails to do so.
Given the fact that the next government is likely going to be unstable, what does that mean for Israel's place on the international stage?
The instability of an Israeli government, it can play out in a lot of different ways — or it can have little effect at all. A narrowly elected prime minister is still an authority of legitimacy.
If Netanyahu wins again, I think we will see a response from the international community quickly. Netanyahu has worn out his welcome not only in Washington, but in many parts of Europe. There's a real lack of patience with him that will manifest quickly. The Iran talks, not much will change there. They will continue to go on as they have been.
As far as the Palestinians and the peace talks go, I think it becomes more confrontational with Netanyahu if he retains power. [On Monday, Netanyahu reversed his 2009 support for a two-state solution, likely trying to appeal to conservative supporters he needs to win.] If Herzog manages to form a government, I don't know that he will change much of the Israeli stance on Iran, although I expect he will be less obnoxious and bellicose about it. On Palestinian issues, he will clearly be willing to get back to talks. Whether or not those talks will go anywhere … there have been talks for 22 years, and they haven't reached an agreement. I don't know if that part will change. I do think that Herzog will slow down the settlement building and I expect him to make an effort to restart talks.
If Herzog were to form a government, how big of a change would it be from what we've seen from Israel's government under Netanyahu?
In regards to international affairs, the tone is what would change a lot more than the substance. Certainly he has different policies than Netanyahu, but he will also need the backing of some right-wing parties in a way that Netanyahu probably will not. He will have to step very carefully in terms of actual policy. He will certainly change the very confrontational tone, he will be more diplomatic and work very hard to mend relations with the United States, in particular.
For someone who is used to watching American elections, with the influx of money and the never-ending campaign ads, how is campaigning in Israeli elections different?
To many Israelis' dismay, across the political spectrum, it's not as different as it used to be. Much like here, a lot of the campaign regulations have eroded. The influence of money is not quite as strong; there are limits on spending and how you can raise funds. There are limits on when you can spend. And when Netanyahu made his speech to Congress, there were delays in Israel because he was not permitted to use it as a campaign tactic.
There is a lot of foreign funding of campaigns, particularly the right-wing parties and those parties in the center. Sheldon Adelson, a strong backer of Netanyahu, has a free newspaper published in Israel that is pro-Netanyahu. Overall, the influence of money is less noticeable, but that is one of the ways money can play a big role there.
One part of the election that has received a lot of attention internationally is the number of women running this year. Is this something that people are paying a lot of attention to inside of Israel as well?
People are paying attention to it, although Israel has a bit of a stronger and longer tradition of women playing key political roles than most of the world. Way back in the '70s they had a woman prime minister when it was exceptionally rare. It's still a matter of concern, especially in the center-left parties and on the left. In many ways though, it's not an unusual development.
Republicans in the United States are big supporters of Netanyahu. Do you have any sense of how discussions of Israel would change if he were no longer in charge?
Republicans are obviously not going to abandon Israel if it had a more centrist prime minister. They will still be vocal supporters of Israel. You're going to see more dramatic changes on the opposite end of the aisle. Democrats are pretty upset with Netanyahu. If he gets reelected, they will be open to finding ways to mend that relationship if Netanyahu is willing to take some steps to do so. If Herzog wins, I think you will quickly see Democrats embrace him in a way that they never would with Netanyahu.
This interview has been edited and condensed for clarity.