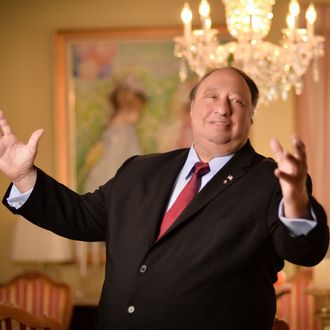 Mr. Catsimatidis
Photo: Andrew H. Walker/Getty Images
Did you hear? A shadowy moneyman (or woman!) is reportedly considering purchasing the New York Daily News from its current owner, Mort Zuckerman. But what bored, possibly insane bajillionaire would be up for running a newspaper in 2015? Let's take a look.
James Dolan: He already owns a tabloid and the worst basketball team in the NBA, so why not tack on a new hopeless venture? Yesterday, "Page Six" reported that Dolan is eyeing the News as an extension of Newsday, the daily paper printed in Queens and Long Island. Though Dolan has accused the News of running a smear campaign against him in the past, he could buy it simply to get them to stop being mean to him, a move that's practically a New York media pastime.
John Catsimatidis: As the old saying goes: If you lose the Republican mayoral nomination, comfort yourself with the purchase of a newspaper. Greek billionaire Catsimatidis is also rumored to be mulling purchasing the News after having lunch at Casa Lever with Zuckerman last month. Catsimatidis seemed to vaguely tease that he'd "lose less money" if he left the paper alone, but cited a confidentiality agreement when asked to confirm he was one of the potential buyers. A triumphant return to the news cycle would be a real coup for reporters who memorized the spelling of "Catsimatidis" during the mayoral campaign.
Rupert Murdoch: News Corps.' chairman and Twitter spitfire Rupert Murdoch has also been frequently mentioned as a potential buyer, though his plans for the paper would be much more cynical: Some observers say he might buy it simply to shut it down so that it no longer competes with his beloved New York Post. With Rebekah Brooks reportedly about to be tapped as News Corps.' new head of online investments, who knows what could happen.
Personally, my vote goes to the 8-year-old who called the editor of the Herald-Times a "shithole." He's got what it takes.