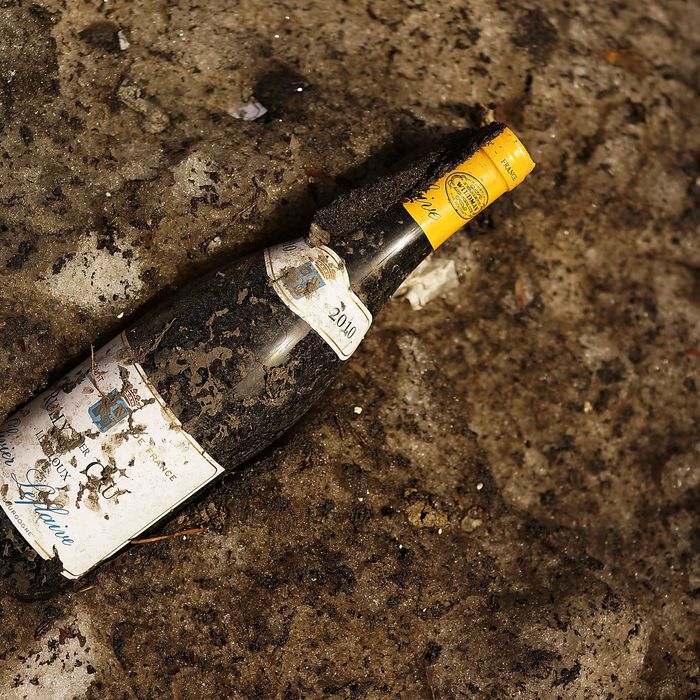 A memory of a harsh winter past.
Photo: Spencer Platt/2014 Getty Images
It's officially snow-garbage season, but does the layer of detritus beneath the city's melting ice seem especially thick this year? It actually is, and there's a reason for that, according to Vito A. Turso, the Deputy Commissioner for NYC's Department of Sanitation. February was so cold and snowy, Turso told us, that the city wasn't able to operate its 450 street-sweeping vehicles for "just about the entire month."
"Imagine NYC if we didn't sweep it for a day," Turso said. "It would look a little messy. For a week, it would look trashy. For an entire month, yikes. Add to that the frozen tundra of accumulating snow and ice and you've got quite an unsightly sight." But think of the Instagram opportunities!
Now that the snow is melting and alternate-side parking is back in effect, the Sanitation Department can actually break out those street cleaners. Of course, there's one problem. "A month's worth of 'stuff' doesn't disappear in a day or two," Turso said. "It takes more than a few days to recover from many weeks of missed cleaning."
In the meantime, the DSNY has dispatched plenty of workers to "chip away at the snow and ice, and sweep away the memories of a harsh winter past."
"We will continue doing so until we're back on our regular sweeping schedules," Turso added. "A few rain showers wouldn't hurt either by washing down the streets and sidewalks. And then, and only then, will the 'snow trash' be just a distant memory."
Once this is over, we can all prepare for New York in summer, when the streets are both covered in and reek of garbage.