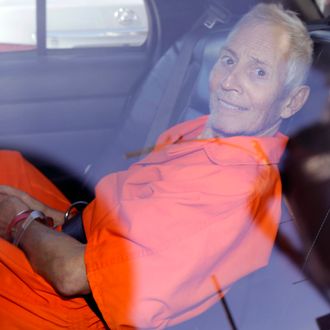 Robert Durst is transported from Orleans Parish Criminal District Court to the Orleans Parish Prison after his arraignment in New Orleans, Tuesday, March 17, 2015.
Photo: Gerald Herbert/AP
Dallas divorcée Linda Walker Zevallos says she met Robert Durst on a flight in 2000, and he immediately began charming her, telling her he was a labor lawyer who had two daughters attending Harvard. That was, of course, fictional: In reality, he was felonious real-estate heir Robert Durst, whose wife had mysteriously gone missing decades before. 
Zevallos spoke with NBC about her short-lived relationship with Durst, whom she says was a "good listener" but had cracks in his façade that were "creepy" and made her sense that "something was wrong." Durst was living in a luxury apartment in a Dallas high-rise, but Zevallos says that one of the rooms inside had only a concrete floor and a saw. When the building manager asked Durst about the room, he said he needed it because he "used a lot of chemicals."
Once, when the couple was driving with Zevallos's son Michael to dinner, Zevallos says Durst suddenly remembered that he had two guns in the backseat of the car and warned Michael: "Don't touch the guns." Zevallos was "absolutely shocked."
Zevallos says Durst told her that he would soon need to make a trip to Los Angeles to visit his friend Susan Berman, who was having "troubles," but she broke off their relationship before he left, having grown tired of his "eccentricities."
Seems like she really dodged a bullet.