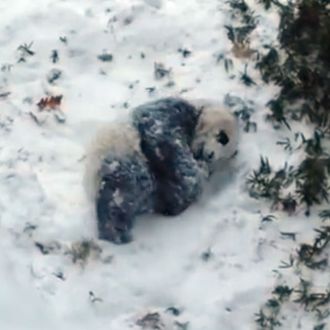 Bao Bao loves snow much more than New Yorkers do.
Spring is a lie perpetuated by people who look good in tank tops, and I have never been more sure of it than I am today, in late March, on the eve of another predicted snowfall. Though March is supposedly known for going "out like a lamb," this year's version of that saying appears to mean "sprinkling the city with a healthy coating of snowflakes even though it's supposed to be temperate." Somebody catch that lamb and put it in the oven.
Our friends at New York Metro Weather tell us that New York can expect to see some light snow starting Friday night and trickling into Sunday as a cold front sweeps in from the East. Temps will drop into the 20s and 30s, with highs in the 40s during the day.
Luckily, the storm doesn't have enough strength to pack the punch of a true winter storm. New York Metro Weather predicts that while the city will receive snowfall, it won't actually stick to the ground. Those in Long Island and Connecticut can expect about an inch, and the unlucky bastards in New England are looking at up to three inches of snow.
It's not all bad news, though. Next week, it looks like temps will hover in the mid-50s; of course, it'll be April by then, so it's expected to be cloudy and rainy for most of the week.