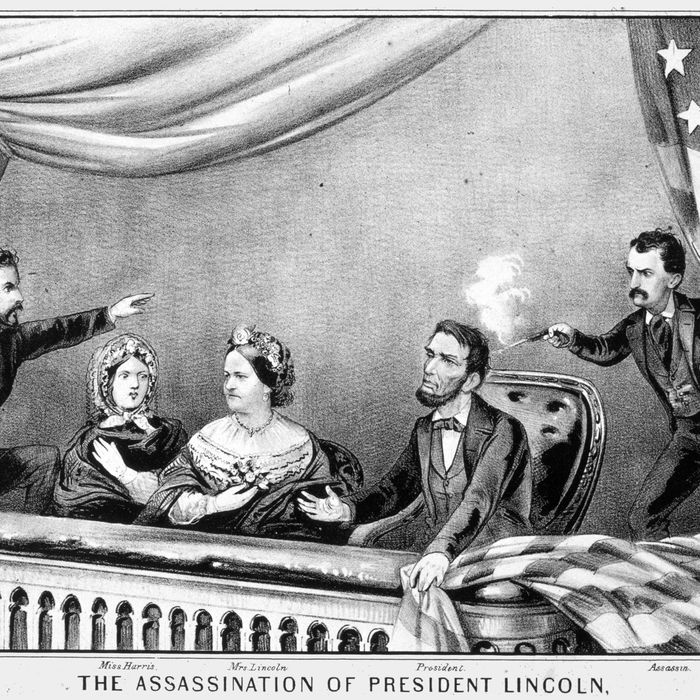 Photo: Currier & Ives; Photo by MPI/Getty Images
April 14th, 2015 marks the 150th anniversary of Abraham Lincoln's assassination, and journalists, historians, and myriad organizations are rushing to commemorate the occasion. Here's a guide to many of the ways you can remember our 16th president today.
Want to pretend you were one of the many people learning about the assassination for the first time on April 15, 1865?
Plenty of news organizations ancient enough to have covered the president's death when it happened have been regurgitating old coverage. One thing that is immediately clear? Reporters took their time in telling the news far more than they do today. The Associated Press's story on Lincoln's death doesn't mention the fact that he was shot until the third paragraph. Readers didn't know for certain that the president was dead until the eighth paragraph. 
As the Washington Post notes, plenty of other newspapers didn't devote too much space to the president's death. Others went all in with exclamation points.
The front page of the New York Herald read, "IMPORTANT. Assassination of President Lincoln. The President Shot at the Theatre Last Evening. Secretary Seward Daggered in His Bed But Not Mortally Wounded." The New York Times' headline was "AWFUL EVENT." The New York Post printed many updates from Secretary of War Edwin Stanton.
The Economist wrote, "The murder of Mr Lincoln is a very great and very lamentable event, perhaps the greatest and most lamentable which has occurred since the coup d'etat, if not since Waterloo."
Want someone to tell you about assassination in a lovely radio voice?
Here's an NPR story about the assassination.
Want to watch a movie about the Lincoln assassination?
There's a new HBO documentary called Living With Lincoln, about our historical memory of Lincoln and the artifacts we have to remember him by.
Want to learn about the other times John Wilkes Booth tried to kill Lincoln?
The successful theater shooting was his third attempt, according to Mental Floss.  
Want to read about the guy who killed John Wilkes Booth?
Washingtonian magazine has a story about "Boston Corbett, the self-castrated hatmaker who was John Wilkes Booth's Jack Ruby."
Curious about what happened between when Lincoln got shot and his last breath?
Here's a Washington Post story about those important minutes.
Want to learn more about what happened to Lincoln's body after he died?
Here's an Atlas Obscura story about the Lincoln funeral train.
Want to know more about what mourners thought when they saw Lincoln's body?
Many weren't too impressed, according to the New York Times. After a few days traveling across the country by train, he was starting to decay. 
Want to hear from Civil War reenactors?
Ulysses S. Grant and Robert E. Lee reenactors talked to C-SPAN earlier this week. They were unaware that Lincoln was going to die, as it hadn't happened yet.
Want to see the chair Abraham Lincoln was sitting in when he got shot?
It's on display at the Henry Ford Museum in Dearborn, Michigan.
Want to know what's happening in your city to commemorate the occasion this week?
Here's a brief guide. If you don't see your home on there, try Google. 
Want to learn more about the play Lincoln was watching at Ford's Theater?
It was called Our American Cousin. A less-than-glowing recent Financial Times review of the play said "the plot concerns a supposedly rough and ignorant Vermonter who, on visiting the landed English side of the family, proves himself so astute that within barely two hours of playing time he has set up four marriages, including his own, thwarted a wicked scheme to bankrupt his uncle and chivalrously given away his own inheritance, albeit to his bride-to-be." Slate didn't find that it held up well either. A Vanity Fair reviewer charitably wrote, "if not exactly funny, if not even somewhere in the vicinity of 'good,' the play is better than its awful reputation as a mere repository of dated, cornpone gags, though it is that, too."
However, in the 19th century, the play was a big hit.
Want to know the last lines recited during the play before Lincoln was shot?
"Don't know the manners of good society, eh? Well, I guess I know enough to turn you inside out, old gal — you sockdologizing old man-trap!"
Want to know more about why Lincoln chose such a bad successor?
Andrew Johnson is often recognized as our worst president. Politico explains the electoral politics that ended with him ascending to the role.  
Want your Lincoln history with a hint of CSI?
A bedspread owned by the Wisconsin Historical Society is being tested at a crime lab to see if it is actually stained with President Lincoln's blood. The FBI might get involved.
Want to read a profile of a Lincoln assassination expert?
Meet Michael Kauffmann, profiled this week in the Des Moines Register.
You've heard of the "Six Degrees of Kevin Bacon" game, how nearly anybody can be connected to the movie actor within half a dozen or fewer steps? Kauffman typically needs just two or three steps to link a person or place to the Lincoln assassination.He cited The Beatles as an example: Booth's sister lived at the address in London that later became Abbey Road Studios.
Is this all too depressing? Want to hear a joke?
Here is a story about Lincoln from the book, Abe Lincoln's Legacy of Laughter: Humorous Stories By and About Abraham Lincoln:
In 1856, when Lincoln was introduced at a banquet in Illinois as a candidate for the United States Senate, according to a reporter who was there, Lincoln said "he felt like the ugly man riding through a wood who met a woman, also on horseback, who stopped and said: 'Well, for land's sake, you are the homeliest man I ever saw.' 'Yes, madam, but I can't help it,' he replied. 'No, I suppose not,' she observed, 'but you might stay at home.'"
Want to know how Russia reacted to the news of Lincoln's death?
The State Department has posted telegrams sent by the Russian prince to the U.S. ambassador.
Want to know how people across the world reacted?
The Atlantic has a story on that. The U.S. ambassador in Spain reported, "The Spanish people have been thunderstruck. I have heard ordinary men, ignorant that an American was listening, offer to lose a right hand if only this news might not be true."
Want to learn more about the obscene number of books that have been written about Abraham Lincoln?
There are reportedly about 15,000 of them, including one coming out this month called, Abe and Fido: Lincoln's Love of Animals and the Touching Story of his Favorite Canine Companion.