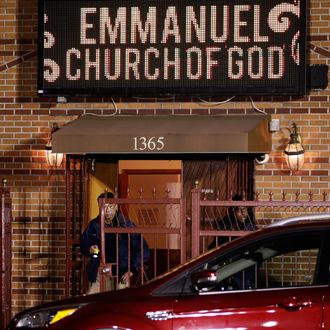 The church where the shooting occurred.
Photo: Kathy Willens/Corbis
A hail of gunfire erupted outside the Emmanuel Church of God in Brooklyn on Monday night, following the funeral service of 38-year-old Jose Louis Robles, who recently died of a heart attack. Six people were wounded, two fatally, when approximately 15 shots were fired by what appeared to be more than one gunman.
The incident happened around 8:30 p.m. on Flatbush Avenue near East 26th Street, as attendees congregated in the streets following Robles's funeral. "I heard so many shots," one witness told the Times. "Bop, bop, bop, bop, bop. I threw myself to the floor, grabbed my kids."
Authorities say the shooting does not appear to be gang-related, but are still searching for a motive.