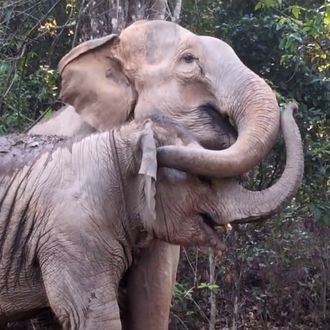 It's been raining since Tuesday, but now it's Friday, and the weekend weather is looking perfect for springtime park strolls. Bid this dreary week good-bye with these eight truly good things that happened this week.
1. It's getting less and less likely that Ebola will spread to other countries. According to a report from the World Health Organization, the risk of the virus spreading internationally has greatly reduced as the number of affected areas decreases.
2. A baby elephant was reunited with her mother after four years. When she was only three years old, Me-Bai was sold and forced to give rides to tourists. An animal-rights organization recently rescued her and reunited her with her mother, and lucky for us, there's video of that meeting.
3. A little boy named Jack wrote a very sincere apology letter. After Jack threw up at the Powell's bookstore in Portland, he decided to send a letter to the "people who cleaned up the throw up" to thank them for doing their very gross job.
4. Jeb Bush's son owned him on Twitter. But Jeb took it like a champ.
5. We met the world's chillest human. And — fun fact — he's been bringing that recliner onto the subway since at least 2013.
6. Obama finally called for an end to gay conversion therapy. In a response to a petition posted to WhiteHouse.gov, the administration said it supports any efforts to ban gay conversion therapy for minors, adding that it "believes that young people should be valued for who they are, no matter what they look like, where they're from, the gender with which they identify, or who they love."
7. Matt Harvey is back and better than ever. The Mets' "Dark Knight" pitched his first professional game since having elbow surgery, and he killed it, leading the Mets to a 6–3 victory over the Nationals. Sorry, Yankees fans.
8. A police pup in training learned to deliver the newspaper. New strategy to save print journalism: Have puppies deliver the paper every morning.