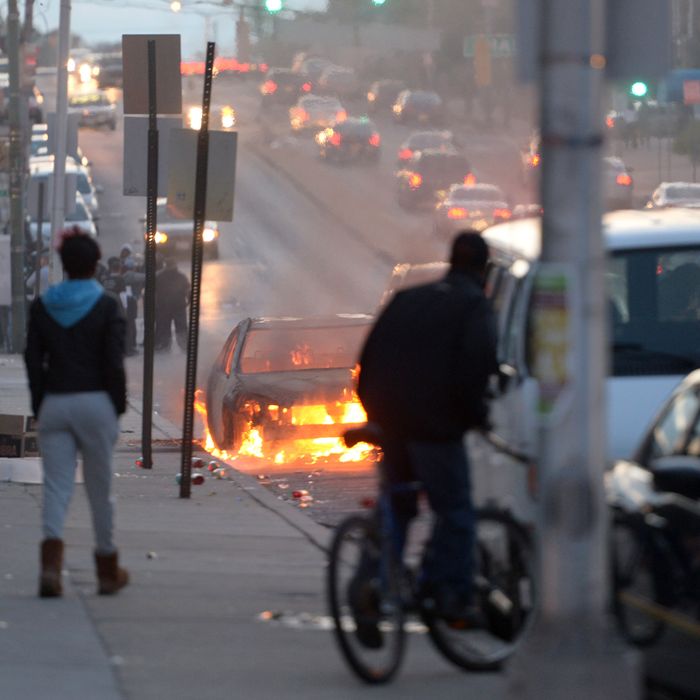 A man crosses the street over burning debris between police and rioters during riots in Baltimore.
Photo: Xinhua/Yin Bogu/Corbis
After a long night of fires, violence, and sirens, daylight has returned to Baltimore, and its leaders and citizens are trying to clean up — and prevent a repeat of Monday's riots tonight. Much of the city is shut down for the day, including the public school system, and drivers have been warned to be careful. More than 200 people have been arrested, and at least a dozen people were sent to the University of Maryland Medical Center for injuries, including two people who were shot in the leg. Fires — 144 vehicle fires and 15 structural fires — continue to smolder. Those who were hoping Freddie Gray's sad death would lead the city to peaceful protests are wondering what to do next.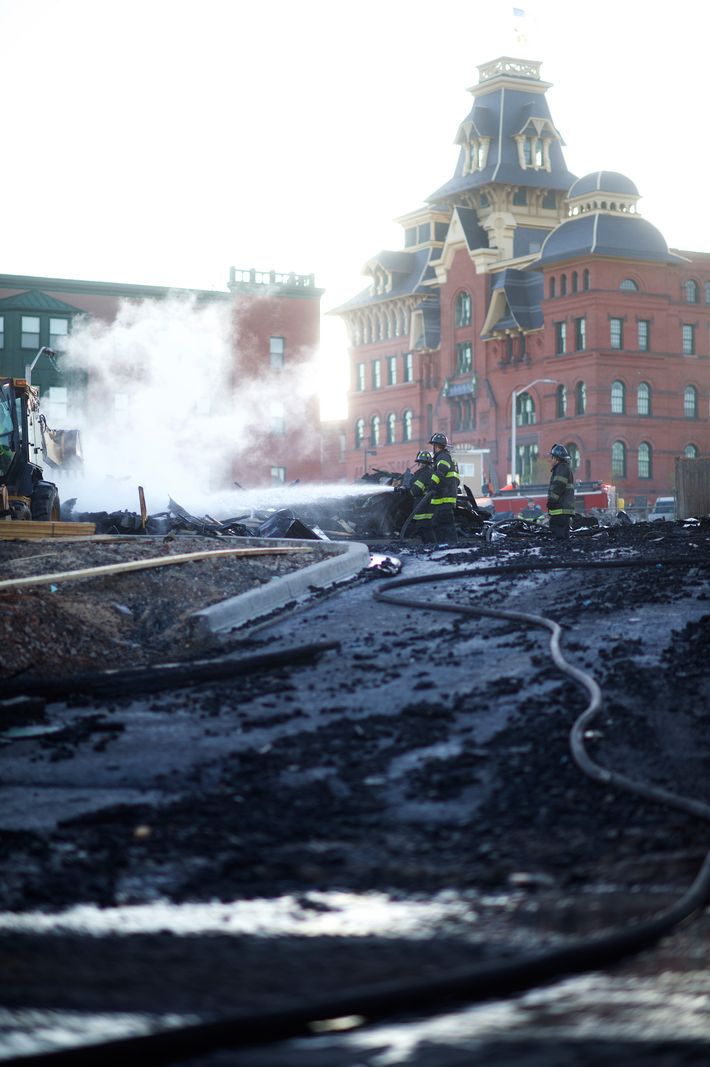 "I am asking all of you out there looting to stop it. Please stop it," City Council President Bernard C. "Jack" Young said yesterday. "When you loot the CVS store, that means that your relatives who work in those stores can't go to work, so they can't get paid. There's a ripple effect. This has gone from being a protest to rioting." Mayor Stephanie Rawlings-Blake said, "It's idiotic to think that by destroying your city, you're going to make life better for anybody."
This afternoon, President Obama spoke about the riots, saying of those involved, "they're not protesting, they're not making a statement. They're stealing." And as a result of their actions, he added, "the thousands of demonstrators who did it the right way will be lost in the discussion."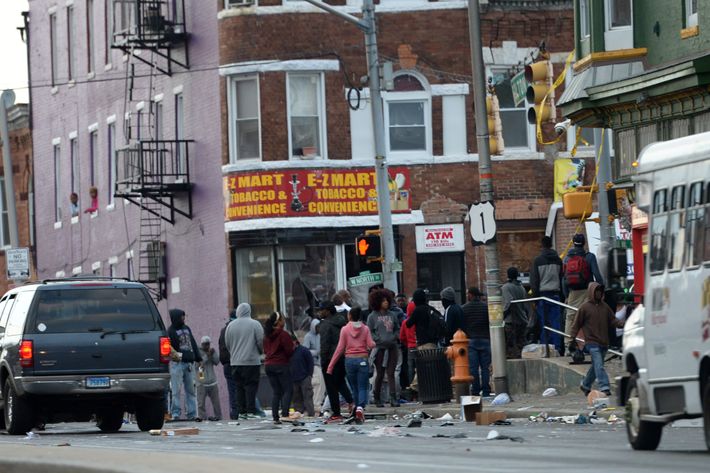 Outside the CVS that was looted and set on fire yesterday, people started picking up and sweeping away debris early this morning. "I thought it was my civic duty to come out to restore my neighborhood," Myra Keane told CBS Baltimore. "I saw the young man on TV outside clean." Everywhere local reporters looked this morning, they saw a similar scene — residents waking up with the sunrise, armed with trash bags and brooms, tackling the glass and trash littering their streets. 
The Maryland National Guard was deployed to Baltimore last night, and they could still be found at Inner Harbor and City Hall this morning.
There were attempts at peaceful protest on Monday night. Representative Elijah Cummings and several church leaders managed to gather a few hundred people to march toward New Shiloh Baptist Church, where Freddie Gray's funeral was held earlier that morning, and then completely overshadowed by the violence inspired by his death. Gray's mother, Gloria Darden, who was wearing a shirt with her son's photo on it, told reporters at the end of the day, "I want y'all to get justice for my son, but don't do it like this here." As they approached the church, the group sang "This Little Light of Mine" as a helicopter spotlight hovered over them.
Maryland Governor Larry Hogan gave a short press briefing on the situation this morning. He said he acknowledged citizens' right to protest, but that "we've now moved on to a completely different situation. This is lawlessness and violence on the streets of Baltimore." Hogan said that he has spoken with faith leaders and law enforcement about how to best respond. Last night, Hogan visited the 15 police officers who were injured in the day's riots. 
Meanwhile, the investigation into Freddie Gray's death continues. Investigators are still trying to figure out how the 25-year-old got the fatal spinal cord injury that led to his death after being put into a Baltimore police van. As the Baltimore Sun has explained, Gray was not the only person to suffer massive injuries after a "rough ride" in a Baltimore police van. One woman who is suing the city for such injuries told the Sun, "You feel like a piece of cargo. You don't feel human." Between 2011 and 2014, the city paid out nearly $6 million in police brutality settlements. 
Or, as Obama put it today, "This has been a slow rolling crisis. This has been going on for a long time. This isn't new and we shouldn't pretend that it's new."