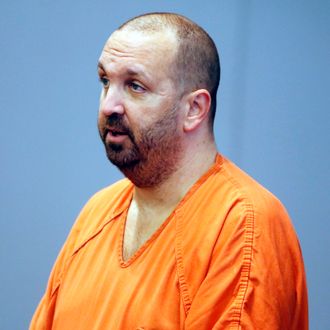 Craig Stephen Hicks at a hearing on April 6, 2015.
Photo: Harry Lynch/Raleigh News & Observer/TNS via Getty Images
A judge has ruled that the North Carolina man charged with fatally shooting three young Muslims who lived in his condominium complex can face the death penalty, the Charlotte Observer reports. At a hearing on Monday, prosecutors said that on February 10, Craig Stephen Hicks briefly confronted 23-year-old Deah Barakat about a parking issue, then pulled a concealed firearm and shot him several times. Then he allegedly shot Barakat's wife, 21-year-old Yusor Mohammad Abu-Salha, and her sister, 19-year-old Razan Mohammad Abu-Salha, before firing at Barakat one more time on his way out. Eight shell casing were found inside the condominium, and Yusor Mohammad Abu-Salha's blood was on the pants Hicks wore when he turned himself in.
According to a search warrant, Hicks "kept pictures and detailed notes on parking activity" in the complex, and he was known to confront his neighbors for making noise or parking in reserved spots. However, family and friends of the three college students say they were targeted because of their ethnicity. The FBI is still investigating whether hate-crime charges are warranted. 
The Los Angeles Times reports that just after prosecutors described the killings on Monday, Dr. Mohammad Abu-Salha, the father of the two women, passed behind Hicks and muttered, "Coward. Scumbag." Hicks looked at him but did not respond.