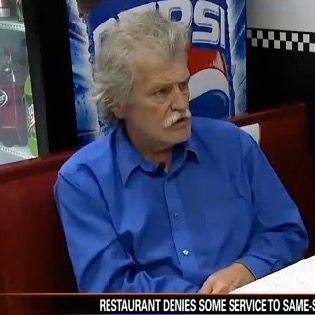 Waging a culture war can be tricky business. This week the effort to impose new laws that allow discrimination against gay and lesbian people backfired on conservative state legislators, and now similarly, some defending gay rights have undermined their cause by acting like jerks. The Walkerton, Indiana, restaurant Memories Pizza was widely mocked on Wednesday when the owners declared they would not cater a gay wedding because they are Christian, though they said they'd still serve anyone who came to their restaurant. Then predictably, some on the internet took things way too far, inundating the restaurant's Yelp page with negative reviews, setting up a parody website featuring a dick-shaped pizza, and reportedly making threatening calls to the pizzeria.
The harassment became so intense that owner Kevin O'Connor says he's been forced to close his business until further notice. But the trolls should know that in addition to punishing O'Connor for discriminating against the non-existent gay person who wanted a pizza-themed wedding, they just played right into Fox News's hands.
Megyn Kelly kicked off her show tonight with a report on the pizzeria debacle, which she said "set off a new debate about which side is intolerant." "Because I don't believe in something that they want, they see fit to be angry about it. It's really confusing to me," O'Connor told the show. "I'm just a little guy in a little, tiny town. That's where I've been my whole life. It's just been ugly. I don't know what to call it." After years of sounding the alarm, Fox News has finally found actual evidence of the war on Christians!