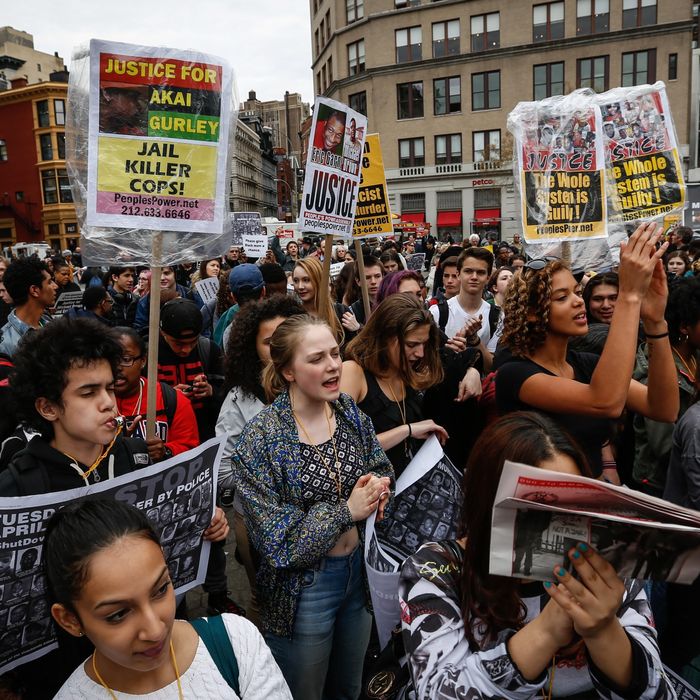 Demonstratos in Union Square on April 14, 2015.
Photo: Cem Ozdel/Anadolu Agency/Getty Images
At least three dozen people were arrested and two police officers were assaulted on Tuesday evening during New York's first major demonstration against police brutality since the killing of two NYPD officers in December. The march, organized by the Stop Mass Incarceration Network, began at 2 p.m. in Union Square, with a reading of the names of people killed by police officers. Bedford + Bowery reports that Nicholas Hayward, whose 13-year-old son was killed in New York in 1994, was the first to address the crowd. "For the last 20 years, I have been fighting to get this case reopened, and I will continue to fight," he said. "We should not be out here today. Our ancestors already fought and died for the things that we are fighting for right now. Your life counts, your voice counts."
The protesters headed down Broadway toward NYPD headquarters in Lower Manhattan, but when police blocked their path, some broke off and marched to the Brooklyn Bridge, according to amNew York. There they broke through another police barricade, heading to Brooklyn on the pedestrian path. A few people jumped into westbound traffic lanes, disrupting rush-hour traffic, and were promptly arrested.
Police continued making arrests as the group moved through Downtown Brooklyn, holding die-ins and blocking traffic at several locations.
Officials said two NYPD officers were assaulted during the protests. A police source told CBS New York that an off-duty NYPD sergeant got into a fight with protesters when they blocked his vehicle. After a verbal altercation, he was reportedly punched in the face and taken to the hospital. Mayor de Blasio's officer released this statement condemning the violence against NYPD officers:
Reports this evening that two of our NYPD officers were assaulted by protestors reminds us that here in New York City, violence or threats of violence against the police are unacceptable and will absolutely not be tolerated. These attacks will be thoroughly investigated, and we will urge the full prosecution of the perpetrators. And any other person who might use the right to peaceful protest as cover to initiate violence, cause mayhem or incite disorder – whether against the police, the people or property of our great City – should consider themselves on notice that New York City will not stand for it. Anyone who decides foolishly to engage in such destructive acts can expect a swift arrest and aggressive prosecution. As I have said before, such activity is beneath the dignity of New York City.
Protesters said they were assaulted by police as well, and the video below shows a physical altercation between police and demonstrators on the Brooklyn Bridge.
Carl Dix, who co-founded the Stop Mass Incarceration Network with Dr. Cornel West, said ahead of the march that the goal was to "revive the spirit of Ferguson," and show that "we're not backing down, we're not going away."