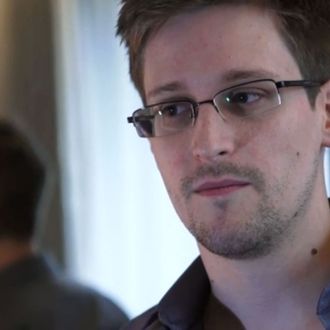 Early Monday morning, several artists placed a giant bust of NSA leaker Edward Snowden on a war monument in Fort Greene Park, according to Animal New York. The 100-pound, four-foot-tall statue sits atop a Revolutionary War tribute called the Prison Ship Martyrs Monument, and it was installed by anonymous artists who want to "bring a renewed vitality to the space and prompt even more visitors to ponder the sacrifices made for their freedoms."
According to an artist's statement provided to Animal:
We have updated this monument to highlight those who sacrifice their safety in the fight against modern-day tyrannies. It would be a dishonor to those memorialized here to not laud those who protect the ideals they fought for, as Edward Snowden has by bringing the NSA's 4th-Amendment-violating surveillance programs to light. All too often, figures who strive to uphold these ideals have been cast as criminals rather than in bronze.
Unfortunately for the artists, it looks like the modern-day tyranny of the NYC parks department has already removed the statue.