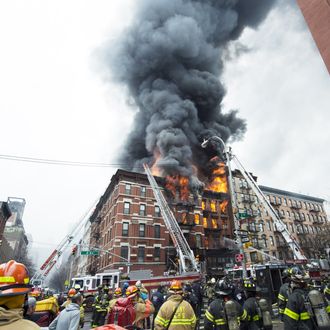 Fire tears through 121 Second Avenue.
Photo: Joe Marino/NY Daily News via Getty Images
Investigators now have a working theory on what caused the explosion and seven-alarm fire that brought down three East Village buildings last week, leaving two dead and 22 injured. Con Edison has said that last summer it found the authorized gas line into Sushi Park, which was on the ground floor of 121 Second Avenue, had been tapped to supply gas to the apartments above. The restaurant's owner, Hyeonil Kim, speculated that after the repairs, the building's landlord began siphoning gas from the neighboring buildings instead. Con Edison employees inspected the building shortly before the explosion on Thursday, and law enforcement officials tell the New York Times they think the blast may have been caused by someone attempting to reinstall the siphoning apparatus after it was hidden for the inspection.
City officials say Con Edison workers left a larger pipe locked on Thursday after determining that the building was not ready to receive gas on the upper floors. Sources tell Newsday that during the final inspection, utility workers found that the locked larger main may have been tampered with.
Those who lived in the apartments above Sushi Park have said they had mostly uninterrupted gas service since last summer. According to ABC News, tenants have also told investigators that building management instructed them to report gas problems to the landlord rather than calling Con Edison or 911. The Manhattan District Attorney's office is looking into the case, but sources said it may be weeks or even months before we know if criminal charges will be filed.