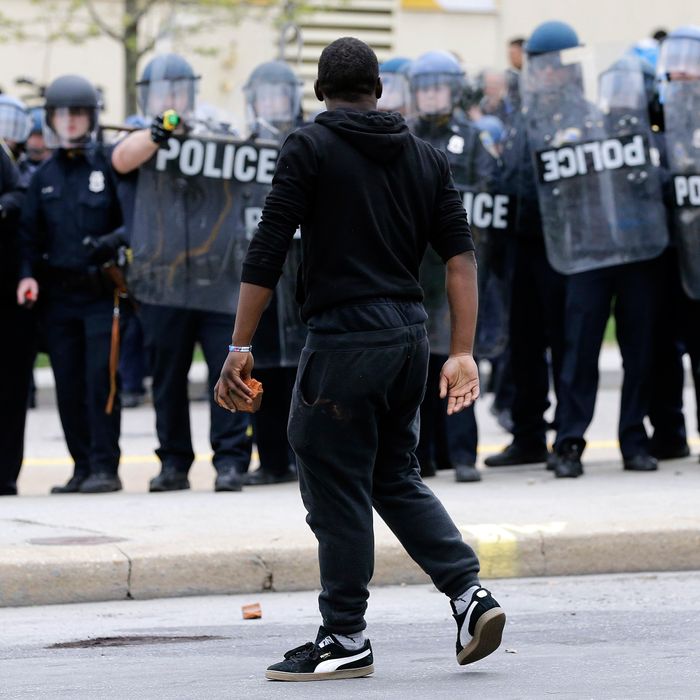 A demonstrator walks past police with a brick as they respond to thrown objects, Monday, April 27, 2015, after the funeral of Freddie Gray in Baltimore.
Photo: Patrick Semansky/AP/Corbis
On Monday morning Freddie Gray, a 25-year-old black man who sustained an unexplained spinal cord injury while in police custody, was laid to rest a week after he died in surgery. The protests that began on the eve of Gray's death were initially peaceful, but the demonstrations grew more unruly over the weekend, and on Monday Baltimore erupted.
The violence broke out this afternoon in the city's Mondawmin neighborhood, where Gray's funeral was held hours earlier at the New Shiloh Baptist Church. The Baltimore Sun reports that calls for a "purge" beginning at 3 p.m. — a reference to the film The Purge, in which all laws are suspended for one night — had been spreading among city school students on social media all day. Many businesses responded to the rumored unrest by closing early, and the Orioles postponed their game against the Chicago White Sox.
At the appointed time, a group of about 75 to 100 students heading to the closed Mondawmin Mall encountered dozens of police officers in riot gear. They began throwing rocks, bricks, and bottles at law enforcement, and the officers responded with Mace and tear gas. That set off a flood of violence that consumed much of West Baltimore and spread downtown, with rioters destroying property, looting businesses, and setting fires.
Police said 15 officers were injured while facing off with the students, and two remain hospitalized. One officer was reportedly "unresponsive," and others have broken bones. At least 27 people have been arrested.
By 6:30 p.m., people had looted a closed CVS and set the building on fire. While firefighters attempted to put out the blaze, protesters cut one of their hoses.
Several vehicles were set ablaze, and a three-alarm fire broke out at a senior center under construction on Gay and Federal streets.
As the rioting spread downtown, people continued to hurl objects at police officers. Officers lobbed more tear gas and pepper balls at the demonstrators in response. Mayor Stephanie Rawlings-Blake condemned the "thugs" — distinguishing them from the peaceful protesters — saying, "It's idiotic to think that by destroying your city, you're going to make life better for anybody."
Mayor Rawlings-Blake announced that a weeklong curfew will go into effect on Tuesday, requiring adults to be off the streets from 10 p.m. to 5 a.m. (children must be indoors an hour earlier). Maryland governor Larry Hogan declared a state of emergency and activated the National Guard, sending 500 state troopers into the city and requesting help from 5,000 law enforcement officers in the mid-Atlantic region. "I have not made this decision lightly," Hogan said. "The National Guard represents a last resort."
David Simon, the creator of The Wire and a former Baltimore Sun reporter, wrote a short blog post in which he called for an end to the rioting:
… the anger and the selfishness and the brutality of those claiming the right to violence in Freddie Gray's name needs to cease.  There was real power and potential in the peaceful protests that spoke in Mr. Gray's name initially, and there was real unity at his homegoing today.  But this, now, in the streets, is an affront to that man's memory and a dimunition of the absolute moral lesson that underlies his unnecessary death.

If you can't seek redress and demand reform without a brick in your hand, you risk losing this moment for all of us in Baltimore. Turn around. Go home. Please.
At the funeral, which was attended by more than 2,000 people, the Reverend Jesse Jackson connected Gray to the 110 other people who have died at the hands of police since 2010. "We are here because we feel threatened," he said. "All of our sons are at risk."
"Freddie Gray would not want this," Fredericka Gray, Freddie's twin sister, said of the unruly protests this weekend. "Freddie's father and mother does not want the violence." The Gray's family attorney, William Murphy Jr., echoed that sentiment in TV interviews on Monday, saying that the family is "glued to the television right now" and "they're hurt."
Update, 10:42 p.m.: President Obama has spoken to Baltimore's mayor, and Loretta Lynch, who just started as the new U.S. attorney general on Monday, said she is sending two Justice Department officials to the city.
"I condemn the senseless acts of violence by some individuals in Baltimore that have resulted in harm to law enforcement officers, destruction of property and a shattering of the peace in the city of Baltimore," Lynch said in a statement. "Those who commit violent actions, ostensibly in protest of the death of Freddie Gray, do a disservice to his family, to his loved ones, and to legitimate peaceful protestors who are working to improve their community for all its residents."
Update, 11:21 p.m.: Earlier reports said an officer was "unresponsive," but a tweet from the Baltimore police suggests that's untrue.
Baltimore schools will be closed on Tuesday.
Hillary Clinton weighed in on Twitter, along with former Maryland governor Martin O'Malley, who's expected to challenge her for the Democratic presidential nomination. 
Update, 11:28 p.m.: MyFoxDC reports that the National Guard has left Reisterstown, Maryland, and is heading to Baltimore.
Update, 11:50 p.m.: Baltimore Police Commissioner Anthony Batts said at a press conference that the National Guard is "on the ground here, now, in the city."
Batts also confirmed that 15 officers have been injured, six seriously. He said he visited them in the hospital and "I told them how proud I was of them and how courageous they were."
"The city is calming down, slowly but surely, other than the car fires and street fires," Batts added.
Update, 1:34 a.m.: After being grilled for more than ten minutes on their clumsy response to the riot, Governor Hogan politely informed CNN's Don Lemon that he and Mayor Rawlings-Blake had to go. Lemon kept talking as the two removed their microphones and walked away.
Update, 12:51 a.m. Tuesday: Several journalists were attacked while covering the protest.
Update, 1:01 a.m.: Here's a look at some of the damage around the city.
Update, 1:15 a.m.: Before the riot started, Baltimore police said they'd "received credible information that members of various gangs including the Black Guerilla Family, Bloods, and Crips have entered into a partnership to 'take out' law enforcement officers." However, during a press conference at New Shiloh Baptist Church on Monday night, church leaders and Gray family attorney William Murphy Jr. said that was untrue. "That was a false alarm cooked up to divide the city even further," Murphy said.
Update, 1:27 a.m.:
Update, 1:30 a.m.: In a series of tweets, Baltimore police blasted the "criminals" who are throwing cinder blocks at passing fire engines and setting cars on fire.
This post has been updated throughout.