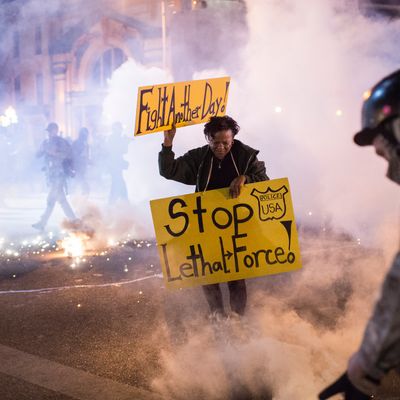 A woman runs with her signs as officers fire tear gas and pepper balls as after curfew on Tuesday.
Photo: Jabin Botsford/The Washington Post via Getty Images
Much of Baltimore was shut down on Tuesday as the city tried to recover from a night of rioting sparked by the death of Freddie Gray after his arrest. Police vowed there would be no repeat of Monday night's violence, and for the most part they succeeded.
Hundreds of protesters were still on the street at 10 p.m when the citywide curfew went into effect. For about 20 minutes police did nothing even as some hurled objects at them. Then the lines of officers in riot gear began advancing slowly, banging their shields. Smoke cannisters and pepper balls were fired at protesters, and most of the crowd dispersed. Baltimore remained subdued overnight as National Guardsmen patrolled the streets.
Around midnight, Baltimore police commissioner Anthony Batts said ten people had been arrested. "We do not have a lot of activity or movement throughout the city as a whole, so curfew is, in fact, working," Batts said. "The biggest thing is that citizens are safe. The city is stable. We hope to maintain it that way." Here's how the night unfolded.
Update, 9:42 p.m.: Police are using loudspeakers to tell those gathered in the city's Penn North section that they will be arrested if they don't head home in the next 20 minutes. Some in the crowd are urging their neighbors to abandon the protest for tonight.
Update, 10:04 p.m.: A curfew is now officially in effect until 5 a.m. Hundreds of protesters (and members of the media) remain on the streets. More police officers have joined the lines blocking the street, but law enforcement has yet to make a move to enforce the curfew.
Update, 10:11 p.m.: Congressman Elijah Cummings is using a loudspeaker to ask the protesters to go home.
Update, 10:16 p.m.: A speaker from a helicopter is telling protesters that they must get off the streets, and members of the media are being asked to move back. A few bottles have been thrown at police, and the line of officers is slowly advancing.
Update, 10:24 p.m.: Police have fired smoke grenades. Some protesters are tossing the bombs back at the officers.
Update, 11:13 p.m: Earlier tonight on CNN, Baltimore City Council member Carl Stokes got agitated when Erin Burnett pushed him on why he objects to calling the rioters "thugs." "They know it's wrong to steal and burn down a CVS and an old persons' home. I mean, come on," Burnett said.
"Come on? Just call them n*ggers. Just call them n*ggers," Stokes said. "No, we don't have to call them by names such as that. We don't have to do that. That is exactly what we've sent them to. When you say, 'Come on,' come on what? You wouldn't call your child a thug if they should do something that would not be what you expect them to do."
Update, 11:28 p.m.: There are still some stragglers, but the police effort to clear the streets appears to be working.
Update, 11:47 p.m.: Hundreds of people gathered for a protest outside Chicago Police Headquarters on Tuesday night in a show of solidarity with Balimore demonstrators. The Chicago Tribune reports that the event was peaceful until people began marching on 35th Street and King Drive and the crowd ran into a line of police bicycles. At least one person was arrested.
Update, 12:01 a.m.: At a brief press conference, Baltimore police commissioner Anthony Batts said ten people have been arrested tonight, seven for curfew vioaltions, two for looting, and one for disorderly conduct. "Citizens are safe. The city is stable. We hope to keep it that way," said Batts.
Update, 12:12 a.m.: About 50 protesters gathered in Ferguson, Missouri, on Tuesday night near the site where Michael Brown was fatally shot by Officer Darren Wilson. One person was shot in the leg, but it's unclear if the incident was related to the protest. The St. Louis Post-Dispatch reports that police took one person into custody in the shooting and recovered a gun.
Update, 3:35 a.m.: Earlier in the evening, CNN's cameras captured a man being swiftly taken into custody as a Humvee rolled across the screen. According to Heavy.com, the man was 21-year-old Joseph Kent, a Morgan State University student and prominent community organizer. His arrest has sparked concern and outrage on Twitter.