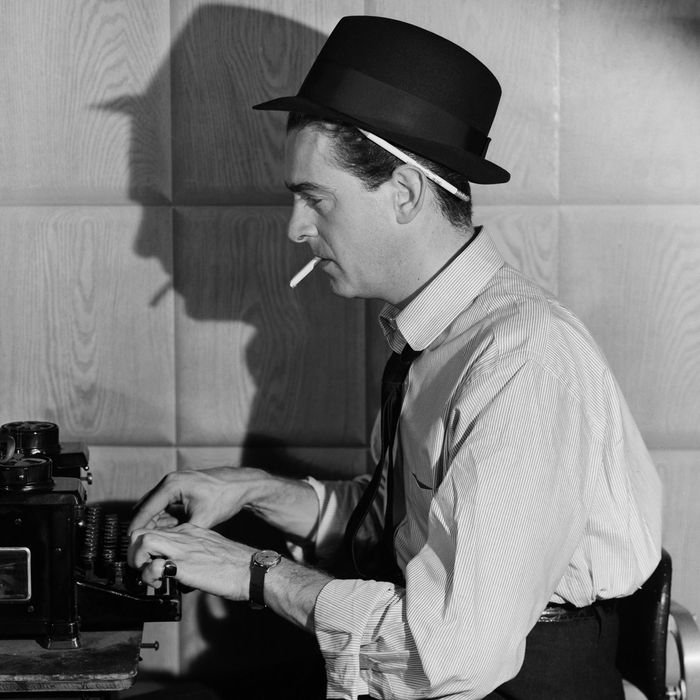 Here is a vintage photo of the last happy newspaper reporter (This is what a happy newspaper reporter looks like).
Photo: Philip Gendreau/Bettman/Corbis
"Newspaper reporter" has reclaimed its perch at the top of CareerCast's worst jobs of the year list, after briefly ceding the title to lumberjacks in 2014. Mail carriers, taxi drivers (who, CareerCast notes, "must compete with new rideshare companies like Uber and Lyft"), enlisted military personnel, and two other types of journalists also landed on the top ten worst jobs list. According to CareerCast, "careers with low pay, poor hiring outlook or high stress — or, perhaps all three — rank in the bottom 20 of the 2015 Jobs Rated Report."
A press release that accompanied 2015's list of job ratings noted that there is a way out for newspaper reporters: "Those with good writing skills often can find new employment in public relations, marketing, advertising and social media, where the outlook may be brighter."
Jobs are rated on a scale from 1 to 200. Actuary was named the best job of 2015. Other jobs deemed better than being a newspaper reporter — people once romanticized in Cary Grant films and now pushed off subway platforms or forced to go into hiding on TV shows — include historian (No. 43), hairstylist (No. 79), plumber (No. 92), clergy (No. 100), social media manager (No. 101), forklift operator (No. 117), funeral director (No. 124), maid (No. 128), receptionist (No. 140), pest control worker (No. 157), and garbage collector (No. 180).
The public doesn't seem to think very highly of newspaper reporters either. A Gallup poll from 2013 showed that 21 percent of the public rated the honesty and ethical standards of newspaper reporters to be high or very high. This meant that Americans thought journalists were more honest than lawyers or members of Congress, but less honest than bankers, police officers, or local officeholders.
In other words, hug the first newspaper reporter you see today.