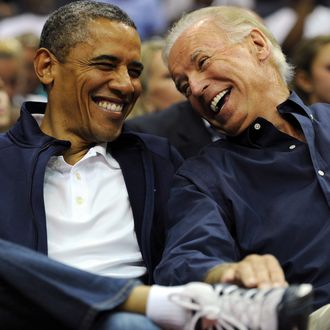 Photo: Patrick Smith/Getty Images
Vice-President Joe Biden spoke with reporters at the White House on Monday and was inevitably asked about his 2016 plans.
He had a topical joke ready for just this occasion. 
"I'm announcing today that Rubio and I are going to run together," he said, jumping off the Florida senator's presidential campaign announcement.
But really, he's not sure about what he'll be up to when the debates start next fall. "I haven't made up my mind on that. I have plenty of time to do that, in my view," Biden said. "If I am wrong, I'm dead wrong, but there's a lot the president and I care about that has to get done in the next two, three months and when you run for president you've got to run for president — and I'm not ready to do that — if I am ever going to be ready to do that."
White House Press Secretary Josh Earnest also talked about the 2016 presidential race on Monday. When asked if Obama planned to endorse Hillary Clinton immediately, he said, "The answer to that question is no."
"There are other people who are friends of the president, who may at some point decide to get into the race," he added.