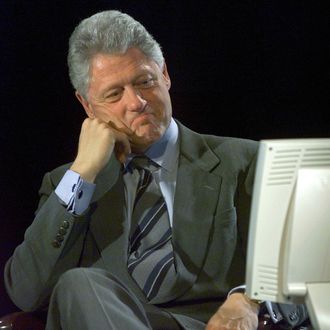 Bill Clinton notoriously does not use social media — which is probably good, because imagine what he'd do with Snapchat — but that doesn't mean his staff is full of technophobes. Jon Davidson, Clinton's deputy chief of staff, is actually quite skilled at humblebragging on platforms like Instagram, and with photos of him hanging out with celebrities, sitting courtside at NBA games, and traveling to exotic locations, it's pretty clear his life is way cooler than yours.
Here he is courtside at a Nets game:
In the pit at a Drake show in Dubai:
Drinking in Tokyo alleys:
Hanging with Pharrell:
Playing golf with friends in Mexico:
And totally owning Richard Johnson:
Jon Davidson's life is cooler than yours. Just accept it and move on.