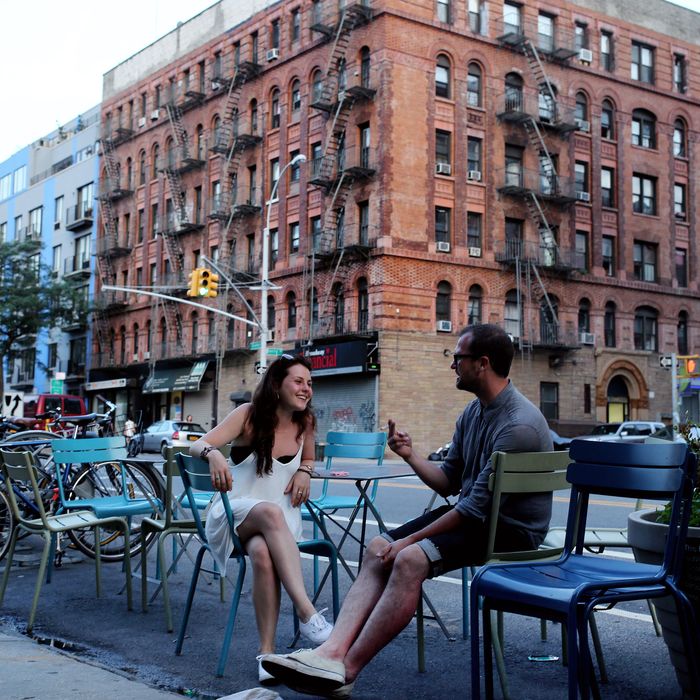 Everyone wants to live here.
Photo: Andrew Lichtenstein/Corbis
Manhattan may still think it's the older, more established sister of sweet, charming Brooklyn, but the most recent real-estate market reports have given it a reality check. According to Douglas Elliman's first-quarter survey released today, Brooklyn's prices continue to break records, with the median now at $610,894, a 17.5 percent jump from 2014. (The average price, $749,269, increased by 10 percent.) Meanwhile, Manhattan saw its numbers plateau in the same period.
In all the years he's been tracking Brooklyn data, appraiser Jonathan Miller, who prepared the report, says last quarter represents the apex for the borough. "Brooklyn is the only borough, median-sales-price-wise, to be higher right now than the pre–Lehman Brothers high-water mark before the financial crisis began," he says. (Brooklyn's median was $545,000 in the third quarter of 2007.) In comparison, Manhattan's median sales price last quarter was close to the prerecession peak, but not above it.
Properties are selling faster here, too: an average of 112 days, down 14.5 percent from last year. One- to three-families saw the biggest improvement in median prices, surging by nearly 27 percent in the same period to $747,000.
This despite inventory expanding by 5.8 percent (though it's still fairly tight). "It's been spectacular. The minute [new inventory] hit the market, if [properties] were good, there were amazing bidding wars and open houses were jam-packed," says Frank Percesepe of the Corcoran Group, which saw the same upward trend in its data. "We're selling everywhere."
Take the two-bedroom co-op in Ditmas Park that Sarah Burke, Douglas Elliman's regional managing director in the borough, says recently went into contract for $100,000 over its asking. (It's not even a freestanding house, the usual lure for Ditmas Park.) Seventy-five people stopped by at an open house for the property, resulting in 15 offers. Burke says what struck her most was that 60 percent of visitors were Manhattanites yearning for a pretty two-bedroom in a decent six-figure price point — not easily done in their borough.
Miller says Manhattan's tendency toward high-end luxury, especially in new buildings debuting on the market, is one reason Brooklyn's doing so well. Bread-and-butter buyers who aren't looking to purchase in the One57s and 220 Parks of this world don't have much to work with in Manhattan, so they're headed across the river. "There's more of a disconnect in Manhattan between the new development space and the high-end in general from the rest of the market," Miller says. "That's a big difference between the two markets. In Brooklyn, we're seeing a skew toward higher-end property, to some degree, but the skew is toward more normal high-end, instead of the super-luxury product [in Manhattan]." Meanwhile, developers are rushing to Brooklyn, which is far from saturated by new condos. Per the Real Deal, two neighborhoods in the borough — Bedford-Stuyvesant and Bushwick — topped the list for residential building applications in 2014; more than 30 projects are headed Bed-Stuy's way, 11 to Bushwick.
Queens, too, saw steady business in the past three months. The median price spiked by nearly 21 percent to $446,434, and properties changed hands more quickly, with an average of 85 days, down 17.5 percent.
If you're set on Brooklyn, you'd do much better in the rental market, where the median monthly price leveled off in March at $2,893 (about 0.2 percent less than the first quarter of 2014). It's taking landlords longer to find tenants, too: Rentals spent an average of 56 days on the market last month, 30.2 percent longer than they did in 2014.  
If you're waiting for the sales market to cool off a little, Percesepe says you may be waiting a long while. A market this strong this early usually is "an indicator of a good year," he explains. "The best is yet to come."