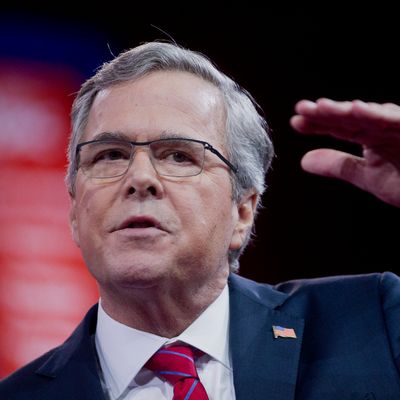 Jeb Bush shows where his pile of super PAC cash is going to come up to.
Photo: Andrew Harrer/Bloomberg
The 2016 campaign has barely begun and Jeb Bush has already uttered what's likely to be the most ironic statement of the whole cycle. "I don't think you need to spend a billion dollars to be elected president of the United States in 2016," Bush said on Sunday, referencing the figure surpassed by both Mitt Romney and President Obama's campaigns in 2012. "I don't think it's necessary if you run the right kind of campaign," Bush continued. "You don't need to have these massive amounts of money spent, but in order to be competitive, you have to raise a significant amount of money to build a first-rate policy team and a great campaign."
Bush made the remark at a press conference in Miami Beach, where he's just kicked off a two-day conference for 350 of his top campaign bundlers. The Washington Post reports that to be eligible to attend the event at South Beach's swanky 1Hotel, Bush's backers had to donate $25,000 or help raise at least $50,000 for Right to Rise, his political action committee. (As the paper notes, "Many planning to attend are expected to have raised well beyond that minimum.")
Bush told donors on Sunday night that he believes Right to Rise has raised more money in 100 days than any modern Republican campaign, and according to the New York Times, the figure is likely "in the high tens of millions of dollars." Even after he officially declares his candidacy (barring him from coordinating with the super-PAC), Right to Rise is expected to play a huge and unprecedented role in his campaign. Last week the Associate Press reported that Bush plans to let the super-PAC, which can raise unlimited amounts of money, run some central functions of his 2016 operation. The details have yet to be finalized, but presumably Bush won't need to raise a billion for his actual campaign fund if he simply lets super-PACs handle his advertising, data gathering, and get-out-the-vote efforts.